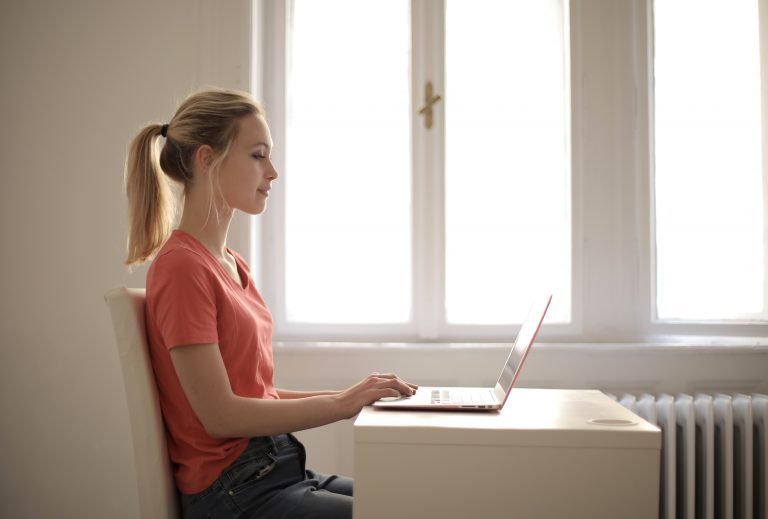 Seat cushions have become the go-to solutions for people all across the globe for comfort and health purposes. Modern-day jobs entail sitting for long periods as the rise of digital platforms becomes rampant. While it is more convenient for everyone, it does promote a deskbound lifestyle.
Our standard office chairs aren't designed for comfort and postures, these seats squeeze the user's hips, misaligning both pelvis and spine, forcing you to slump.
A good seat cushion relieves the pressure from your back, buttock, and thighs, allowing you to focus on work without experiencing fatigue. Finding a reliable seat cushion is an investment not only for your health but also for your work productivity.
As there are different types, designs, and styles to consider, we're going to help you find the best seat cushion that fits you most in this comprehensive buying guide.
Seat Cushion Top Picks for 2021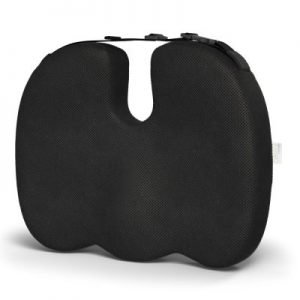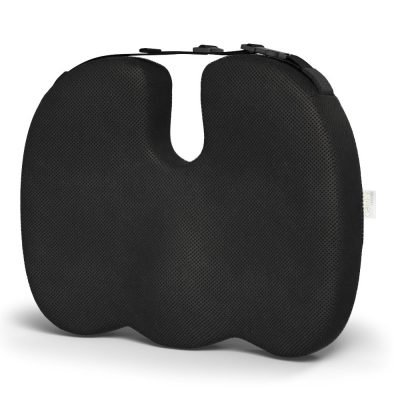 COMFYCENTRE's seat cushion has won two categories: Best
Budget and Overall Top Pick. In other words, it's where comfort meets price.
What makes this a practical option is its wear-resistant feature, a reliable
seat cushion that can last years of daily usage.
This has breathable memory foam to keep you comfy over long
periods. Despite sitting for hours, the pillow does not lose shape. It retains
its form to continuously provide support.
Visually, it's one of the best seat cushions you can find in
the market. While the U-shape and W-shape design add a factor in aesthetics, it
also comes with a functionality aspect. The former relieves discomfort from the
coccyx and spine, and the latter takes off pressure on your legs.
For hygienic purposes, COMFYCENTRE came up with smart
moisture regulating cover. This keeps the air in circulation to prevent swear
or moisture residue.
You're given a 5-year warranty on the product and 30 days to
try the seat cushion for yourself at 100% satisfaction. If you aren't happy
with the quality, have it shipped back. Free of charge.
Why Do We Love This
Product?
Wear-resistant for longevity
Adjustable strap
Ultra-dense memory foam
Washable cover
5-year warranty
Larger users need more love than the average person, and Xtreme Comforts did an amazing job creating a comfortable seat cushion that accommodates bigger office chairs. Measuring at 19 inches wide, it fits on almost any chairs, allowing even weight distribution.
The two-layer foam enables the cushion to conform to your shape, so it won't go flat over time. This is ideal for bigger users who want to relieve lower back pain and tailbone pressure.
Another thing that makes Xtreme Comforts one of our top picks is its machine-washable mesh cover. Pop it in the washing machine, and you're good to go.
For people who are always on-the-run, the seat cushion comes with a convenient carry handle. You can bring it to and from work or on travel. What's more, its non-skid bottom lets you use the cushion on any chair or surface.
Why Do We Love This Product?
Large surface for bigger users
Two-layer foam conforms to your body shape
Non-skid bottom that keeps it in place
Handy carry handle for transportation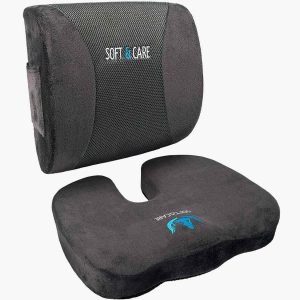 This gives you the best of both worlds: A seat cushion and back support in one item. The Orthopedic seat cushion makes it possible for you to work for long periods without compensating posture. It provides support for your buttocks and lower back.
The seat cushion assists in relieving pressure on your coccyx, which decreases discomfort from sciatica and herniated discs while the lumbar support pillow helps with lower backpressure.
While you may be getting two items in one package, the price is at a reasonable range, making it a good 2 in 1 deal. The cushion and the lumbar pillow is made out of 100% memory foam, so comfort is secured.
The seat cushion has a non-slip rubber bottom, so it won't wiggle off from its position. Bringing the duo to your travels is hassle-free thanks to its built-in handle as well.
What seals the deal with SOFTaCARE Seat Cushion is it does not only have adjustable straps for personalization, but the lumbar pillow delivers a convenient side pocket for your smartphone. After all, it's the little things that matter the most when at work!
Why Do We Love This Product?
Seat cushion and lumbar support in one product
Non-slip rubber bottom
Adjustable straps for adjustments
Lumbar side pocket for phones

For users who want the finer things in life, there's nothing more splurge-worthy than Purple's Ultimate Seat Cushion. While the cost may seem it's going to break the bank, you do get what you pay for.
This is the longest, widest, and tallest seat cushion Purple has manufactured, guaranteeing it provides maximum comfort for users of any size.
The seat cushion is designed with a neatly contoured groove to ensure you're in optimal posture. It keeps you comfortable for over 8 hours of sit-time without pressure from your tailbone.
Another thing that makes Purple worth the price is its temperature-neutral feature thanks to the cushion's open airways – you don't ever have to feel uncomfortable due to sweat.
Why Do We Love This Product?
Conforms to the things in your back pocket
Contoured groove for comfort
Sit comfortably for over 8 hours
Air channels keep sweat and moisture out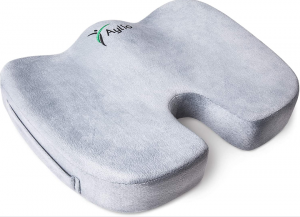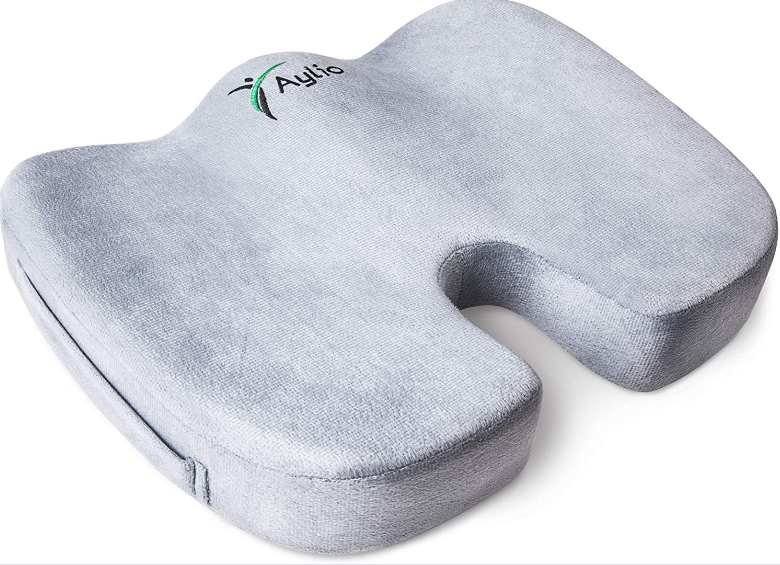 While this deserves a spot in our best design category, it won't be a stretch to say this could potentially replace Xtreme Comforts Seat Cushion as an option for bigger users. The Aylio Coccyx Comfort Foam Seat is just a shy of two inches in width from the champ.
It follows a unique cut-out design for aesthetics and functionality. Due to the seat's firmness, it does a good job of evenly distributing the user's weight, easing pressure on tailbone and hip bones.
Similar to our other top picks, it comes with a handy carry handle so you can bring it with you anywhere you go. Weighing only less than a pound, it won't be a problem to bring with you in air flights or land trips.
This eye-candy of a seat cushion is neatly wrapped with a removable grey velvet that makes it easy for your weekly laundry or aftercare.
Why Do We Love This Product?
Lightweight and portable
Aesthetically pleasing design
Convenient carry handle
Large surface to accommodate bigger users
Honorable Mentions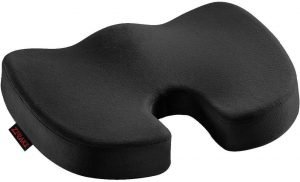 While Ziraki Coccyx Seat Cushion may not have made it to our top picks, it still deserves a spot in our honorable mentions. It carries a simplistic design that makes it easy to blend in on any surface.
The size, at 13 inches in width, is ideal for common chairs. It fits perfectly with standard office chairs, car seats, and wheelchairs. Similar to COMFYCENTRE® Orthopaedic Seat Cushion, this sports a U-shaped design for back support.
This is on the cheaper spectrum of seat cushions, so it falls short on comfort. We do not recommend this for users who sit for long periods. This is better-suited for short-distance travel for assistance and mediocre support.
Why Do We Love This Product?
Budget-friendly seat cushion
Fits with most standard chairs
U-shaped design for comfort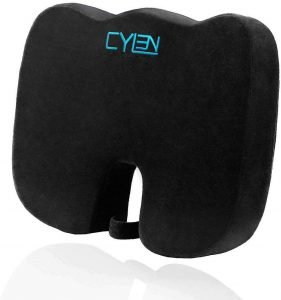 CYLEN Seat Cushion's ventilation is a notable feature that needs to be mentioned. It sports a unique bamboo charcoal infusion that prevents a rise in temperature, which means the cushion remains cool and moisture-free throughout the day.
This is a notch above than CYLEN's older models because of its newly improved cover, not only does it allow maximum airflow, but it comes with a handy non-slip feature to keep it in place.
It works perfectly fine on chairs with flat-surfaces. However, it's difficult to use for automobile driving seats. This comes with a 5-year warranty and a sixty days no-hassle return.
Why Do We Love This Product?
Good ventilation that keeps moisture away
5-year warranty
Non-slip cushion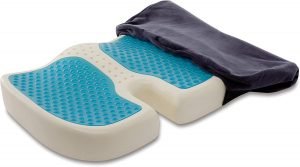 This is one of the more compact seat cushions on our list for travelers alike. The accessible handle makes it easy to bring with you on your trips, whether it may be on plane seats, car seats, or office chairs.
The cushion is made out of furniture-grade foam, it gives you almost the same experience as sitting on a cozy sofa, but only slightly better as it also has a layer of memory foam for comfort.
Just like with our other picks, it has a non-slip surface that allows you to use it anytime, anywhere. It does have a minor fallback which is its strong chemical odor. It takes a few days before it wanes off.
Why Do We Love This Product?
Non-slip cover/surface
Uses furniture-grade foam
Convenient handle for portability
5 Buying Considerations
Back Rest
If you're looking for extra support, you may want to consider purchasing a seat cushion that comes with lumbar pillow support. These are two separate pillows that are constructed from the same material, the seat cushion goes underneath you while the lumbar support is situated at your back.
Make sure the back support has an adjustable strap, so you can properly position the pillow for maximum comfort. Also, you may want to keep an eye out for lumbar pillows with added features, such as a nifty side pocket for smartphones.
Filling Material
Manufacturers commonly use memory foam as the cushion's inners. However, there are plenty of seat cushions that use dense foam. In terms of coziness, memory foam is the better choice as it remains firm throughout the day. What's more, it contours to the user's body for comfort.
Ergonomic Features
Most seat cushions follow a curved shape design, so they can fit naturally to your body while providing ergonomic support. You may opt for contoured seat cushions as well.
Medical Features
If you have a medical condition, it's best to look for seat cushions that are designed for alleviating your ailment. Sciatica and bulging discs are two of the common conditions that can be eased by using the right seat cushion.
Cover
Look for a cover breathable and softcover as it plays an important factor in comfort and hygiene. Newer seat cushion covers can be detached in one zip. These are machine washable for easy maintenance.
Takeaway
Your performance at work can greatly deteriorate when experiencing sitting discomfort, this is especially when you have to stay put for prolonged hours. It stresses your back, which misaligns your spine. If no action is taken, it could potentially lead to internal damage.
A reliable seat cushion promotes proper spine alignment, blood circulation, and work productivity – you're just one cushion away from a healthier and happier you!