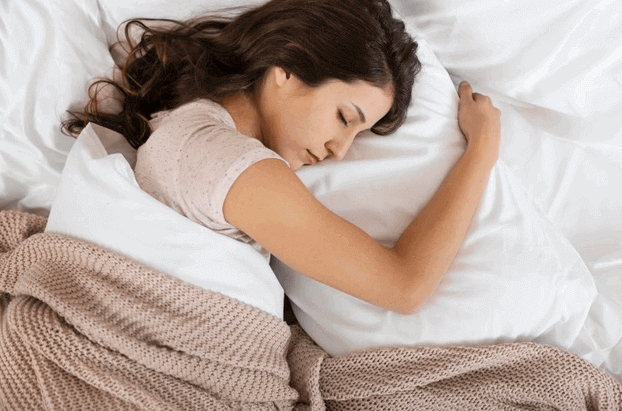 Getting comfortable is the first step to having a good night's sleep.
If you are a petite side sleeper, finding the right pillow can be very challenging as the average pillow can either be too big or too soft.
One of the best ways to improve your sleep as a side sleeper is to make sure that your pillow provides your neck proper support.
While there are hundreds of pillows in the market right now, here are 6 of the best pillows for petite side sleepers:
Best Overall:
What stood out the most with this pillow is the well-thought-out design. Petite side sleepers should try this one out as experts have engineered special contours on this pillow. This ergonomic design will help promote proper alignment of the spine by fully accommodating the space between your neck down to where your shoulder touches the mattress.
It is made from UltraDense Foam to provide maximum posture support. In contrast to other brands, this pillow offers a higher density and quality memory foam. Hence, it does not lose its shape and support.
Aside from this, they designed the cover to be air permeable and the memory foam to have an open cell structure to keep you cool every time you sleep.
Pros:
• Balanced structure. The pillow is designed to provide pressure relief and support.
• You won't need to fluff this pillow every single time to get the desired loft.
• Affordable
• Removable cover – easy to wash
• Breathable material
Cons:
• May be heavy for some.
This pillow is filled with a blend of medium-firm, cross-cut memory foam and microfiber – apparently, the meeting place between comfort and support.
It also adjusts to your sleep position so you can sleep comfortably while keeping a proper spinal alignment. I liked the fact that both the cover and the fill can be machine washed, unlike many other shredded memory foam pillows.
Conveniently, the Coop pillow is adjustable. Simply unzip and you'll be able to customize your pillow's loft level by removing and adding the fill until you're comfortable with the height.
Pros:
• Customizable loft level.
• Both cover and fill are washable.
• Breathable material
• Cheap
Cons:
• It may become lumpy overtime after constant washing
• Too firm to other people
• Reported slight off-gassing
• Constant need of fluffing the pillow to get the desired loft
• Not desirable for hot sleepers
What we like about this pillow is that it has a combination of a natural fiberfill from the Kapok or Ceiba Tree and shredded memory foam to provide both a supportive and dreamy feel. Its "lofty profile" grants even broad-shouldered individuals plenty of support.
Side sleepers who are weighing less than 230lbs gave excellent remarks and enjoy the supportive and plush feel this pillow gives. Also, the fill is adjustable which allows you to remove and add the volume of the filling, However, it tends to get messy at times.
Another thing that we liked about this pillow is how it was carefully designed to reduce odor since the pillow can't be washed.
Pros:
• Adjustable fill
• Temperature regulating technology – good for hot sleepers
• Hypoallergenic
• Delivers comfort and support
Cons:
• Not washable
• A bit pricey compared to other pillows
• Needs to re-fluff if the height is not comfortable
A specially designed pillow for side sleepers who would casually roll from side to side during sleep. Eli & Elm pillow has an extraordinary shape to support your neck and shoulders for proper alignment.
Just like the other two pillows mentioned above, this side sleeper pillow's proprietary filling can be removed so you can find the right height and support that works best for you. It is also antimicrobial, dust mite resistant, and mildew proof. The covers are made from cotton, mixed with fine polyester and spandex -- the cotton fabric was engineered to help dissipate heat.
Also, if you don't like your Eli & Elm pillow to look like everybody else's pillow, you can request to purchase a custom-fit pillowcase to make it more unique than it already is.
Pros:
• Customizable firmness/loft level
• Washable cover
• Ergonomic design
• Temperature regulating materials were used to keep you cool while you sleep
Cons:
• Pillowcases are made to order if you're not comfortable using the standard design for pillowcases
• Hassle to fluff the pillow and get the desired firmness
• The middle part of the pillow was designed to be a bit flat for when you flip occasionally and sleep on your back when sleeping. In my opinion, the design itself is not made for solid side sleepers
• Expensive for some
If you're a sleeper who does not want to constantly adjust your pillow according to the level of firmness you need, then you may want to try this pillow out.
Casper's first-ever foam pillow showcases a three-layer supportive foam that is specifically designed for proper spinal alignment all through the night. This is also best for individuals who sleep hot as the AirScape™ perforated foam used in this pillow helps push away heat to keep you cool night after night.
This pillow's "medium-firm" feel is supportive enough for side sleepers, but it is also squishy enough to provide comfort night after night. This is one of the reasons why they designed the pillow with a two-inch gusset to provide or promote neck alignment since this is where side sleepers need the extra support mostly.
Pros:
• Machine washable – Cover only
• Hypoallergenic and breathable
• Good for people who prefer the "slow-moving" feeling of the foam
• You won't need to always fluff this pillow before you sleep for it to remain supportive.
• Promotes spinal alignment
Cons:
• Relatively heavy because it's constructed with an all-foam material
• Could be too firm for some people
• According to most buyer reviews, it tends to not properly diffuse heat
Another entry for one of the best foam pillows made for side-sleepers. The pillow is engineered to conform to whatever the position of your head is while sleeping.
This pillow is made soft while retaining the support needed for petite side sleepers as the foam was designed to keep its shape all night. It is dense and light at the same time; dense in a way that it can provide back and neck support but light enough to keep you cool while you sleep.
Petite side sleepers need not worry if this is a non-adjustable pillow since Tuft and Needle created this for fine-tuned support; they custom cut the foam of their pillows -- producing a balanced soft and firm pillow that works for most people.
Pros:
• The foam is made from T&N Adaptive® Foam with graphite and cooling gel to keep you cool while you sleep.
• Non-adjustable so you won't have to add and remove fillings like the other pillows on this list.
• Machine washable – cover only.
• The foam of this pillow is more responsive than Casper's.
Cons:
• Expensive.
• Could be too soft for petite side sleepers with broad shoulders.
• Tends to go flat according to some buyer reviews.
Buying Guide
Petite side sleepers need a pillow that can perfectly fill the gap between the side of the head down to where the shoulder meets the mattress. For that, we need to consider these things to successfully bridge those gaps.
Density
This relates to how much the pillow compresses down when weight is added on top of it compared to its loft. Sleepers who need more support better have a denser pillow. Remember that for side sleepers, our main goal is to keep our head, neck, and spine properly aligned. More likely, side sleepers will need a denser pillow such as a foam pillow to keep proper spinal alignment.
Loft
What is the height of the pillow? Please don't get this mixed up with density because some materials may have low density and high loft. An example of that material would be wool or down.
Materials
What is it made of? One of the most important things to consider before buying a pillow is the material used as fillings/stuffing. This will determine how comfortable and supportive the pillow will be. Also, the materials used to design the covers are just as important too.
Size
What's the measurement of the pillow? The size of a pillow should balance out the size of the sleeper. To get a perfect size, make sure that while your head fits on the pillow, your shoulder can rest easy on the mattress.
For most petite people, the distance between the side of the head and the edge of the shoulder is somewhere between 3" – 5". Considering the firmness of the mattress and the broadness of one's shoulder, the ideal pillow for a petite side sleeper needs to have this height or loft to keep the spine aligned.
Takeaway
When it comes to improving your sleep quality, knowing your sleeping style is just as important as choosing the right pillow. ComfyCentre's approach when it comes to providing comfort and support to people stood out.
But then again, the experience of having the "best pillow" could be different for everyone because even petite people have different body structures. At the end of the day, it all boils down to personal preference.