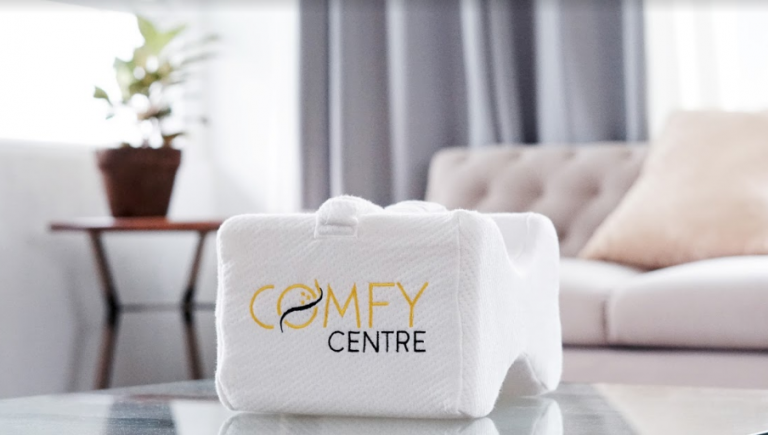 A knee pillow is ergonomically designed to conform between your knees and provide ideal support when you sleep. An excellent quality knee pillow can cause a massive difference in your sleeping habits, especially if you're a side sleeper.
Unusually, knee pillows aren't the first thing that appears to our mind when considering a good night's sleep. But surprisingly, several individuals are incorporating this pillow into their bedtime routine.
When you sleep with a pillow between your knees, it helps lessen your spine's tension while keeping its natural alignment. Knee pillow provides adequate relief for various sleepers, especially back and side-sleepers dealing with pregnancy pain, backache, and agitated leg symptoms. Sleeping with a knee pillow can also help with poor circulation and offer pain relief from several conditions.
In this in-depth knee pillow guide, we'll go over the benefits of a right knee pillow, the different types, and designs and what to look out for before purchasing.
Our Top 5 Knee Pillow Picks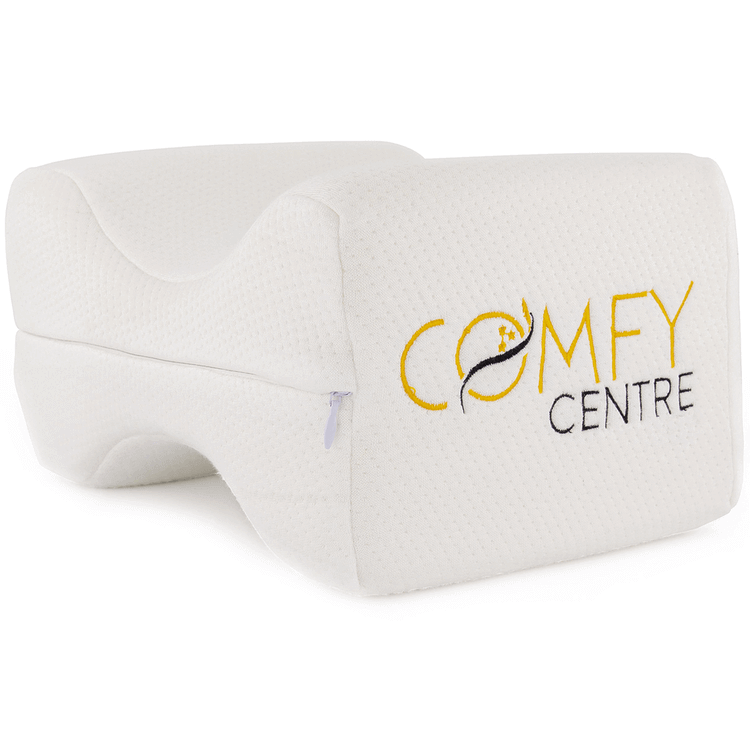 A game-changer in the knee pillow industry is COMFYCENTRE. The company has succeeded in providing premium pillows at an affordable cost, making it one of the rising stars in 2020.
The knee pillow prevents the user's knees from touching against each other, alleviating pressure. Its ergonomic design provides the sleeper instant back, hip, and knee pain relief.
COMFYCENTRE ensures that the user's spine is in a neutral position throughout the night, improving sleep quality and reducing pressure.
The pillow sports a wear-resistant memory foam for longevity, its breathable material ensures the pillow keeps its form and support for long periods.
What do we love about it?
Ventilation covers prevent sweat and moisture residues
Pillow remains cool and comfy throughout the day
Convenient, washable cover for hygiene
5-year warranty
Promotes blood circulation and vitality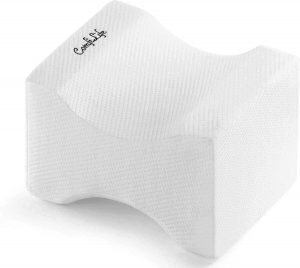 Quality knee pillows have high-density memory foam that delivers firm support for the user. However, these dense pillows tend to be too hefty for some people.
ComfiLife Orthopedic Knee Pillow sits right in between light and heavy at 8 ounces, making it a comfortable pillow for users of all sizes.
It hugs the sleeper's legs without losing shape, which helps with spinal alignment. ComfiLife is a cut above the rest as it is made out of 100% premium cut memory foam, which means it does not go flat over time. As a bonus, the breathable cover is machine washable, making clean-up convenient.
What do we love about it?
Fits well with sleepers of all sizes
Suitable for pregnant women
Provides long-lasting comfort
ComfiLife offers a replacement warranty
This Best Half Moon Pillow rapidly forms to the contours of the user's body, which means it provides you with the ideal mixture of comfort and support.
Also, it's made out of 100% visco-elastic memory foam for the optimum experience. The material is sensitive to the sleeper's body temperature and weight, it becomes softer to accommodate the user's comfort level.
Note: It may take a few days for the pillow to fully puff out after retrieving it from the sealed bag.
Simply slide the bolster in between your knees and shift on the side that you're most comfortable with. The bolster pillow keeps the user in appropriate alignment throughout the night, reducing pressure on the back, leg, knee, and ankle.
What do we love about it?
Outlines the sleeper's body
Smaller dimensions make it suitable for travels
Delivers optimal comfort
Adjusts to the user's body heat and weight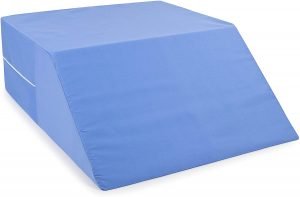 This provides the ideal support level for the user's legs, the foam retains its shape to keep you in a stable elevated position. It improves blood circulation, reduces pressure, and strain on your spinal cord.
DMI Ortho Pillow offers a generous amount of area with its 20" wide space, allowing the user to find a comfortable position whilst laying down. Despite its wide platform, it doesn't eat up too much space on your bed.
While this doesn't utilize memory foam, the lightweight foam pillow provides enough comfort for the user while keeping its form.
Sit your legs comfortably on top of the elevated position, you can have the wedge underneath or above your covers. Similar to the other products on the list, it comes with a removable cover for convenient aftercare.
What do we love about it?
Delivers an extra-wide platform
Supportive lightweight foam retains shape
Wedge makes it easy to find a comfortable position
Easy-to-clean, machine washable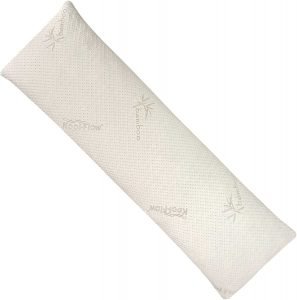 It gives the sleeper the coveted cool pillow atmosphere, which makes it one of the most sought-after body pillows in the market. In comparison to the different pillow types above, body pillows are pricier because of its size.
Snuggle-Pedic Body Pillow is fifty-four inches long and twenty inches wide, it is crafted to contour to the sleeper's body for comfort.
Pro Tip: Air-out your Snuggle-Pedic Body Pillow by putting it in the dryer for twenty minutes on high heat, this will quickly re-inflate and fluff up your pillow when shipped in a cold environment.
What do we love about it?While most pillows have a certain smell from the manufacturer, this is completely odor-free. What's more, it only takes less than ten hours for the pillow to expand to its full size after retrieving it from the vacuum seal.
Keeps back, knees, hips in proper alignment
120-night no-hassle refund guarantee
Works for side, stomach, and pregnant sleepers
Breathable pillow that contours the user's body
Why Use A Knee Pillow?
Study shows that placing a pillow between your knees provides a more comfortable feeling while sleeping, mainly if you are a side sleeper. Pregnant women or people suffering from back pains can also benefit from placing a pillow between their knees when sleeping.
Achieving a quality sleep means you need to attain 7 to 8 hours of sleep every night. If you spend all these hours sleeping on your side with no adequate support in your spine, you may start to sense severe backache or soreness.
A knee pillow provides multiple benefits considering that you get at least 8 hours of sleep every night as your body requires comfort during these hours. It keeps your spine aligned in an accurate position, preventing any further back pains. Moreover, using a knee pillow will restrain your legs apart, releasing stress and tension from your knees.
Different Types of Knee Pillow
Knee pillow comes in various sizes and types: hourglass, half-moon, wedge, and body pillows. Choosing the right knee pillow depends on your needs, preferences, sleep habits, and health conditions.
Hourglass Pillow
From the word itself, this pillow is shaped like hourglasses that go between the knees. This type of pillow is the most popular knee pillow shape. Hourglass pillow aims at maintaining your legs in place and separated while keeping the spine relaxed and aligned.
It has a contouring feature along the sides that fit into the knees' natural contours to provide maximum comfort and stability.
Half-moon Pillow
Half-moon pillows are shaped and resemble a cylinder cut in half lengthwise, which can be used between or under the knees. It offers relief to lower back pain and is suitable for side-sleepers, even pregnant women, and back sleepers.
Wedge Pillow
This type of pillow has a triangular shape, formed like a large, firm wedge, ideal for use under the knees if you're a side-sleeper. It can also be placed between the knees for extra support when sleeping on your side.
Wedge pillows aim to keep your legs elevated, maintain blood circulation, and take the pressure off your back. They are excellent for people with back pain and restless leg syndrome
Body Pillow
Its versatile support pillow can help support the neck, head, hips, knees, and legs while at sleep. It comes in various forms (such as "U" and "C," designed to retain the head in proper alignment with the spine.
Body pillows provide extra support for the abdominal area, which makes it ideal for pregnant women.
Who Can Benefit from Knee Pillow?
Knee pillows not only lessen pressure in the back and help alleviate tension in the hamstrings, but they also provide added cushioning between the knees to prevent the knee joints from rubbing on each other.
Knee pillows are especially beneficial for side sleepers as they tend to experience discomfort with one leg reclining on the other. That's why this pillow is the best option as it forms a solid, cushioning barrier that restrains the legs apart.
But aside from side-sleepers, knee pillow is also recommended for:
Back-sleepers
While it's unlikely for back-sleepers to use knee pillow between their knees, several find that placing a pillow below both knees reduces tension and alleviates pressure. Knee pillows are beneficial for back-sleepers by elevating the lower body, which helps align and improve blood circulation in the legs.
People experiencing back or knee pain
People experiencing knee pain brought by injuries or physical stress can benefit from knee pillows. Individuals suffering from mild to severe backaches can also utilize this pillow as it keeps the legs aligned to help alleviate any discomfort caused by back pain.
People with restless legs syndrome
Restless legs syndrome (RLS) is a medical condition that generates an uncontrollable urge to move your legs, which commonly occurs at night when you're lying down. Knee pillows provide extra durability that helps prevent legs from moving too much as this condition causes the legs to move excessively during the night.
Pregnant women
Several pregnant women prefer sleeping with a pillow between their knees to reduce pressure in the hips and pelvis, which usually happens as their bellies grow. Knee pillows are also ideal for pregnant women with poor spinal alignment due to back problems associated with their size.
What to Consider When Buying A Knee Pillow?
When on a hunt for the best knee pillow, here are a few features to consider:
Shape
The perfect shape of the knee pillow suitable for you depends on your sleeping position. Ideally, if you're a side-sleeper, hourglass-shaped pillows are the best option. Stomach sleepers can also benefit from this type of knee pillow. While back-sleepers can opt for a half-moon or wedge shape.
Thickness
The thicker the knee pillow is, the more cushioning it provides.
Although no guidelines are set in determining a pillow's thickness, experts recommend basing your body weight as a reference.
Generally speaking, more massive people will benefit from the extra cushioning and support provided by thicker pillows, while lighter people may find a thinner knee pillow to be more comfortable.
Filling material
Knee pillows are typically filled with a particular piece of high-density memory foam. Compared to low-density foam, high-density memory foam has larger air pockets in the foam, making the foam springs back quicker while providing adequate support and maintain the pillow's original form for as long as possible.
Cool vs. Warm
Another important consideration when choosing a knee pillow is whether you're a "warm" sleeper or a "cool" sleeper.
If you tend to feel cold at night, you may prefer a pillow made from a material that traps body heat.
If, on the other hand, you tend to feel hot at night, you'll want to consider a knee pillow made with cooling gel and/or covered with a breathable material.
Cover material
The material present outside the knee pillow will determine both the comfort of the pillow and its breathability. Materials commonly used for knee pillow covers are polyester, nylon, cotton, and rayon.
Bamboo fibers are also gaining their popularity on the market for its natural antimicrobial feature.
Pricing
A quality knee pillow should cost more than $30, but for some "specialty" pillows, they're expected to carry a much higher price tag.
Consider all the factors you necessarily need before purchasing a knee pillow and remember that the price does not certainly reflect its quality.
Warranty and Returns
Finding a knee pillow with a great warranty and return policy is essential. That way, if it turns out the one you purchased doesn't work, you can swap it out for another and keep it for life.
How Until You Begin Feel the Benefits from a Knee Pillow?
The benefit is quite immediate as long as you give it some time to get used to when sleeping, as knee pillows are specially designed to fit between your thighs. They help correct your hip and reduce the pull on your spine, relieving lower back tension.
Takeaway
Maintaining our spine at its best shape and health while sleeping is crucial as we spend a third of our lives resting and sleeping. Considering a knee pillow while you sleep may reduce pressure on your lower back while preventing chronic pain development or worsening.
However, remember that even a high-quality knee pillow may not answer all your pain and discomfort while you sleep. It's always essential to seek professional help if you are experiencing any persistent body or joint pain.