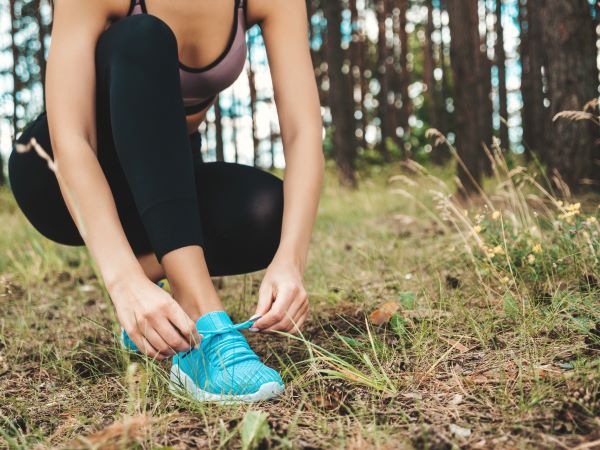 Using the shoes that fit that features the adequate cushion and delivers the right kind of support helps alleviate back pain.
Choosing the proper shoewear and using preventive measures is the first step in the right direction.
Here are the best shoes for back pain!
Top 8 Shoes For Back Pain
Brooks Adrenaline GTS 20 is a popular shoe because it is one of a very few shoes that have great stability support that can be used in both long or short-distance runs.
As a matter of fact, the adrenaline series line is widely known as it offers comfort and safety to the wearer as speed is maintained during runs.
The series line is so popular that it has been staying on top of the industry for over two decades now.
The Brooks Adrenaline GTS 20 is widely popular with people with foot and lower back problems as it gives them a chance to keep on enjoying physical sports safely and with comfort.
The sneakers are offered with a wide range of bright colorways for any user to choose from. The sneaker external design is top tier without compromising its functionalities. The shoes are available in both men and women variant.
The shoe fabric is made of Element Mesh material which guides and maintains the foot to be in the right position as you use it without limiting the mobility of its user.
Its revolutionary new design for the foam, crash pad, and roll bar contribute to the overall awesomeness of this sneaker.
If you want to add a classic court sneaker into your choices of everyday shoes that can support your back pains, then the Kuru Roam classic court sneaker is the right one for you.
Designed for effortless dressing up or down, ROAM can be worn on any occasion, whenever you need it. You can casually use it for work, parties, and even just for wandering around.
Kuru has started gaining popularity among people with back pain because of their innovative and revolutionary technology, KURUsole and KURUcloud. Kuru brags the use of premium polymers found in high-end running shoes which makes KURUcloud deliver endless cushioning and support while enhancing the cupping motion of the KURUsole.
Using the Kuru patented dynamic duo of KURUSOLE and KURUCLOUD, Roam can help the wearer relieve their back pain as the sneaker flexes to the cup of the heels as the wearer moves.
Kuru Roam comes in Jetblack Alloy, Bright White, Empire Steel, and a combination of jet black and Bright white color variations that users can choose from.
Another notable shoe that supports people with back pain is the new Kuru Atom. Its standard sneaker design attracts a lot of sports enthusiasts as it portrays sporty running shoes look that can be used in lengthy activities.
The Kuru Atom is the flagship performance shoe of the brand as of the moment and it drew its design from high-end running shoes of the market.
Inspired by research-based design, Atom's midsole is flared on the medial side of the heel which ensures a safe and stable landing and at toe-off for a secure and powerful launch.
Being the athletic fit of the brand, it is designed to be the most versatile one in your arsenal of shoes.
It can be used casually paired with jeans and a shirt, or used in the gym or your next 21k without being bothered by back pains.
The Atom uses the KURUcloud and KURUsole technology as well in its design, which ensures safety and comfort to the wearer.
It comes in Cloudgray, Indigo, Citron, Jetblack, and Classic Blue Marigold color variations that users can choose,
Asics, being a well-renowned running brand as of today, also have their own line of shoes that supports those experiencing lower back pains.
Their very own Gel-Kayano 27 is one of many in their arsenal of shoes that have the highest qualities fit for Olympic athletes and marathon runners.
The shoes are loved by many because of their being lightweight while having the infamous FlyteFoam sole and Asics Gel technology system.
As the FlyteFoam layer is strategically spread along with the foundations of the shoe, it doesn't compress easily when pressure is applied especially as it is made of organic fibers.
Whenever the wearer places his whole weight into the sole, the foam layer serves as a spring that will easily bounce back the step of the wearer while on track.
As the infamous Asics' Gel technology is integrated into the shoe and is spread towards the front and the rear sections, the shoe provides a cushion that bounces back force and shock in every step. This technology is known for its benefits in greatly reducing the stress placed onto the knees and lower back as the wearer performs different activities especially running.
Asics Gel-Kayano 27 is one of the best shoes if you want to get back to running despite having some back pains and the shoes come in a wide variety of colors that any user can choose from.
Adidas does have a reputation when it comes to sports shoes of any kind. They have built a brand so strong that whenever you think of a good sports shoe, its one of the first brands that'll come to your mind.
Adidas too has its own models of shoes that can ease the pain of those suffering from back pain.
One of the best shoes for back pain that Adidas has in store is their latest Adidas Solar Boost 19 series.
The series has two variations that users can choose from, a sneaker and a running shoe variation. Nonetheless, both are effective in providing comfort to those who are experiencing lower back pains.
With their built-in propulsion rail, the shoe provides some sort of shock-absorbing spring in each and every step that you take that'll take some stress from your knees.
The torsion system and the spongey outsole provide comfort to the sole. Another awesome thing that the shoe offers is the rising heel that gives further support to the back of the wearer's feet.
It has a stitched support that cushions every shock, relieving stress from the lower back.
New Balance is widely known for its sneakers but it's taking its game to another level by slowly entering the sports industry.
As they introduce new designs and technology, their market expands as well as they begin targeting sports and training enthusiasts.
The New Balance 656V2 Training Shoes have been gaining a lot of popularity for having some exceptional features to keep the experience comfortable and secure while conducting physical training.
The best feature that the shoes have is the slip-resistant outsole that will guarantee the wearer's safety in soapy, oily, or wet conditions. This ensures that the wearer is safe from sustaining any injury from accidents on slippery surfaces.
This shoe is great for people with lower back pains as the EVA foam footbed is paired with an internal shank that grants the wearer more support, stability, and cushion as they take one step after the other.
The comfort that wearers get in every step using the shoe is just enough that the shoe is slowly gaining popularity through word of mouth.
If you are looking for a shoe that can dress a formal attire that can support or relieve you from your lower back pains, then the Drew Bexly Men's Shoes is the one for you.
What's amazing about this shoe is it can be custom fit by adjusting the removable footbeds and twin-gore stretch to fit the size of any wearer. In just a matter of minutes, this shoe should be the perfect fit for any wearer's feet.
The shoe also brags its durability, which is also proven by its own users, as it has a firm heel counter paired with a tempered steel shank that greatly contributes to its stability.
The outsole helps in propelling the feet forward as you walk by having a super lightweight polyurethane material in the outer sole.
The shoe is recommended for people suffering from several conditions including high arc, flat feet, bunions, lower back pain, etc. So if you are looking for a durable shoe that you can use for casual to formal events, Drew Bexley is the shoe you got to go to.
The Propet Cronus Men's Stretchable Shoe is the one that you are looking for if you are looking for a laid-back shoe that has the optimal fit and orthopedic comfort that you've been longing for.
What is great with the shoe is it is made of neoprene material that grants an extra stretch that can cater to swelling of feet or just an abnormally sized foot.
As it is made with lightweight materials, the shoe is very comfortable that it can be used anywhere from home to the office.
It has an insole that provides an extra cushion which you can remove any time to give the shoe a perfect fit for your feet.
Propet Cronus shoes are widely known orthopedic shoes that provide comfort especially to those who need them most, the ones with swollen feet, flat feet, bunions, back pains, etc.
Conclusion
There are a lot of available shoes in the market that can cater to your very basic shoe needs, but there are a few that are specifically designed for some kind of relief.
Above are the ones that can offer relief and comfort for back pains. It is hard to endure the pain of being away from your favorite sports activity.
However, with the help of innovation and technology, these shoes deliver comfort and relief.
If you're dealing with back pain, you can alleviate discomfort by using a Memory Foam Pillow designed for neck and pain relief.
It features special contours of the ergonomic design that will exactly follow your cervical vertebra to keep your posture in optimal sleeping position.
Learn more about how you can alleviate your back pain here.