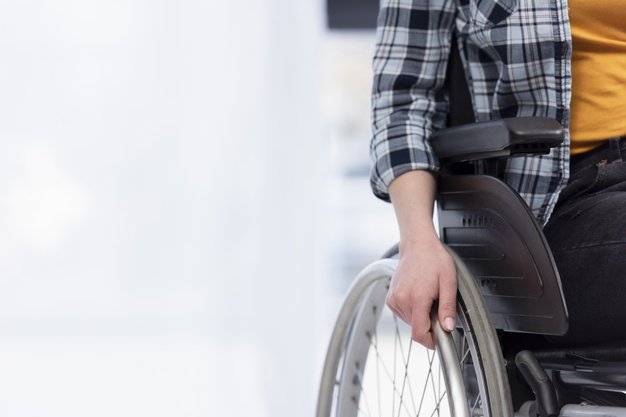 Sitting for hours in a wheelchair can be painful and will eventually lead to sore muscles. If you or your loved one uses a wheelchair, the best way to improve comfort and promote postural health is to utilize a wheelchair cushion.
Many wheelchair users find themselves sitting on a wheelchair for extended periods throughout the day. This situation can often generate a range of problems such as pain and discomfort. Common factors like excessive pressure and a bad seated posture can raise the risk of pressure-related injuries, leading to painful pressure sores.
Wheelchair cushions help relieve pressure, providing a more comfortable sitting for individuals who use wheelchairs. This cushion comes in three varieties: air, foam, or gel. Furthermore, some covers are specifically made to feel comfortable against the skin while reducing friction and extending breathability. Other covers may lack this feature.
If you're looking for the best wheelchair cushion for pressure relief, we've compiled a list below for you to choose from!
5 Best Wheelchair Cushion for Pressure Sores Relief
Pressure build-up is prevalent for wheelchair users, especially those who are unable to shift their weight singlehanded. This can lead to skin breakdown, which will eventually develop as painful and potentially dangerous pressure sores. Choosing the right wheelchair cushion for pressure relief can relieve this problem.
Editor's Pick: ComfyCentre Orthopedic Seat Cushion
ComfyCentre Orthopedic Seat Cushion is a practical option due to its wear-resistant feature, a firm and excellent seat cushion that can last years of daily usage. It comes in two shapes: U-shape and W-shape, which adds an aesthetic factor while not comprising the functionality. The former relieves discomfort from the coccyx and spine, and the latter takes off pressure on your legs.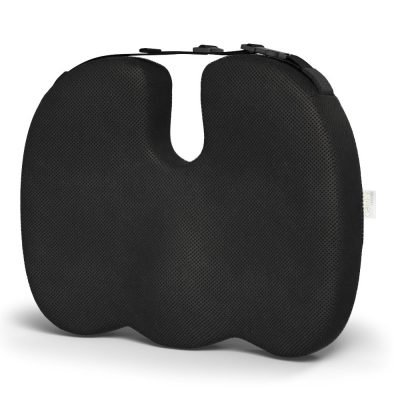 Features
U-shape & W-shape cut-out feature
Smart moisture regulating cover
Washable cover
Lightweight
Adjustable strap
What do we love about it?
Features Ultra-Dense™ Memory Foam, a hardwearing, high quality, and air-permeable memory foam for long-lasting comfort
Contours your body while providing optimal support to your back and rear.
5-year warranty on the product
30 days to try the seat cushion to meet your 100% satisfaction. have it shipped back if the quality doesn't meet your expectations. Free of charge.
Features smart moisture regulating cover which keeps the air circulating to prevent swear or moisture residue.
Non-slip rubber bottom so that it won't wiggle off from its position.
Aylio Coccyx Seat Cushion for Pressure Sores
Aylio Coccyx Seat Cushion is designed to relieve the pressure off your body whether you're sitting on a wheelchair, office chair, or airplane seat.
This cushion features a u-shaped cut-out on the rear that allows your coccyx suspended in the air instead of touching the seating surface, which helps eliminate the pressure and pain.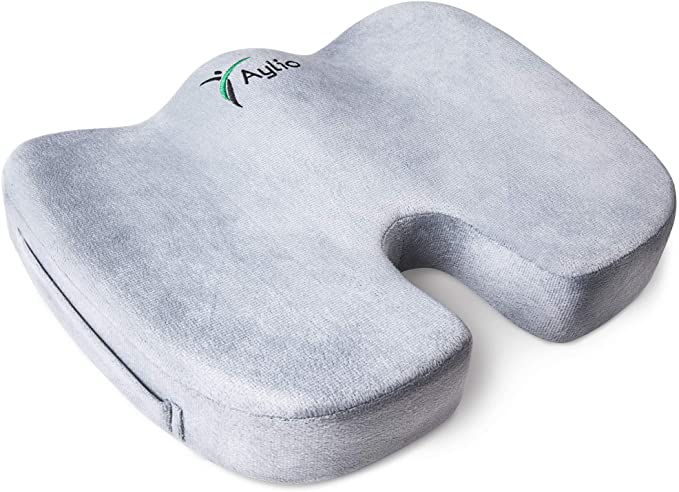 Features
U-shaped cut-out design
Contoured surface
Lightweight and portable
Washable cover
What do we love about it?
The cushion conforms to your buttocks and thighs to align the spine and distribute weight evenly.
It can be brought and used anywhere due to its lightweight feature.
Features a soft velvet cover, making it easy to wash.
Versatile and can be used on many occasions
Prevents back pain and discomfort
Vive Wheelchair Cushion's unique feature about this cushion is made of gel and foam to combat each kind of infirmity.
This gel cushion features four layers of supportive comfort, comprised of a water-resistant softcover, waterproof seal, supportive foam, and a liquid gel at the center that evenly distributes the user's weight across the surface.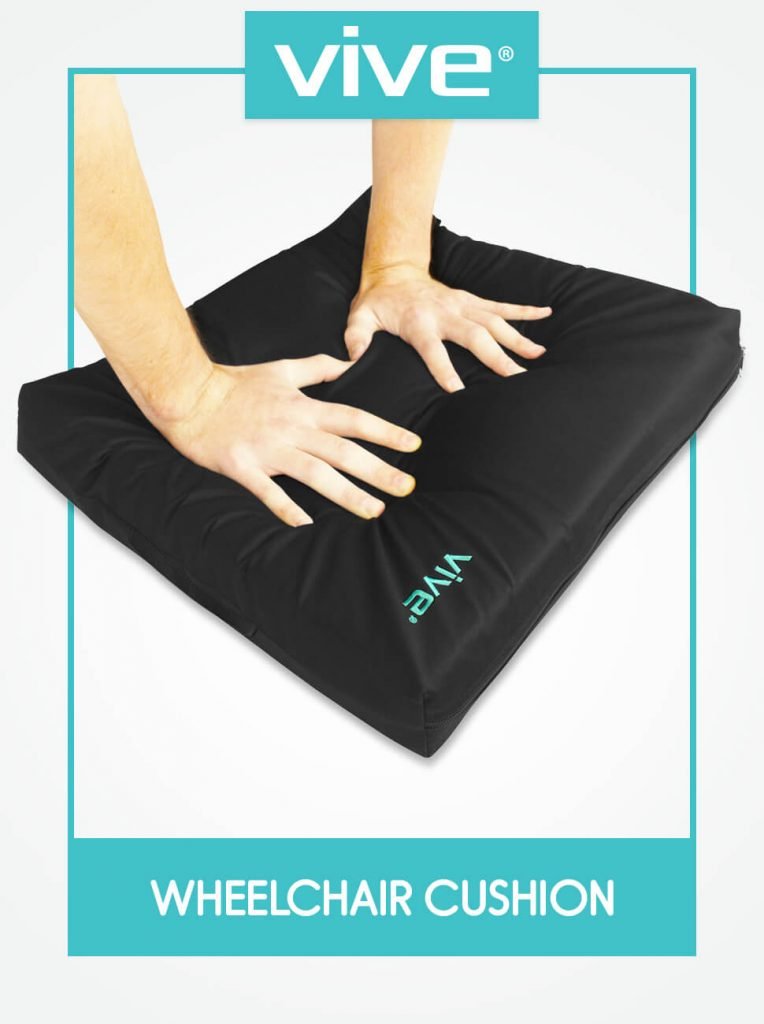 Features
Two layers of waterproof material
Liquid gel core
Detachable soft and luxurious cover
Optimal size for any wheelchair
What do we love about it?
Completely waterproof, so you don't have to worry about spills
Better performance and durability due to the combination of gel and foam
Easy to clean removable cover
Promotes comfortable sitting and pressure relief
Heavy-duty and portable
Affordable
Drive Medical Wheelchair Seat Cushion
Drive Medical Wheelchair Seat Cushion is one of the best pressure relief seat cushions intended to prevent and alleviate pressure sores and back pain.
This cushion is made of a viscous gel bladder covered in a fire retardant foam shell to provide optimal pressure relief and adequate weight distribution.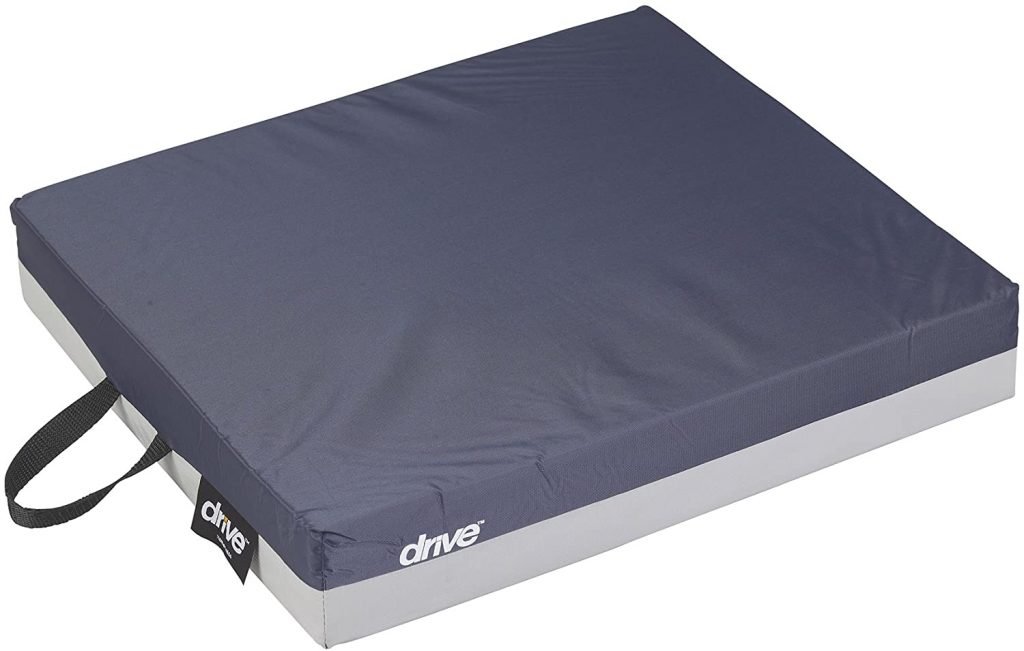 Features
Polyurethane foam shell
Urethane-coated nylon cover
Viscous gel bladder
Waterproof base cover
Detachable cover
Weight capacity of 275
Attached grip
What do we love about it?
The cover has a vapor-permeable feature that keeps you cool and dry
Removable and replaceable for easy keeping
The non-slip vinyl base holds the cushion intact.
The cushion is waterproof and very durable.
Wondergel The Original Wheelchair Pressure Sore Cushions
Wondergel Original Gel Seat Cushion For Wheelchairs uses the patented principle of column buckling, which allows the wondergel columns to buckle and distribute excess weight and pressure to the neighboring columns, reducing any pressure points from your body.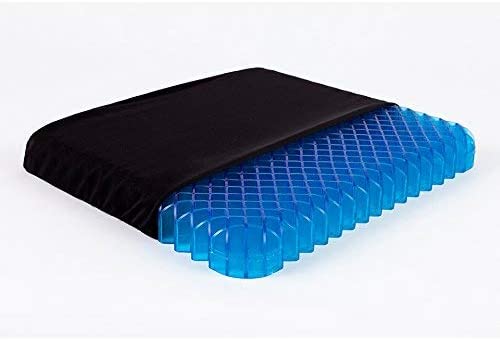 Features
Adjusts to the human shape and weight
Ultra-soft, ultra-strong for comfortable support
Breathable gel filling
The elastic gel reverts to its original shape immediately as you move.
What do we love about it?
Durable and doesn't overturn after a while
Keeps you cool and dry all-day
Portable and can be used in any seat or chair
What To Look For When Buying the Best Wheelchair Cushion
Maintenance
How much maintenance is needed to keep the cushion clean and useful?
Choosing a low-maintenance wheelchair cushion such as gel or foam or purchasing a cushion cover is ideal if you don't have much time to change it.
Weight Capacity
How much weight can the cushion handle without overturning quickly?
Gel and foam may not be the best option for very heavy people as they tend to overturn real quick. Choose air-filled or honeycomb cushions if your weight is on the higher side, and you opt for better shock absorption.
Cooling Capability
One of the main benefits of wheelchair cushions for pressure sores is improved airflow and cooling effect, preventing sweating. Choose a material that will put your bottom and back cool enough because being hot and sweaty is very uncomfortable.
Getting hot and sweaty can be very uncomfortable, so choose a material that helps cool down your bottom and back.
Budget
How much money do you allocate on your wheelchair cushion versus the benefits.
Different types of seat cushions for bedsores may vary in cost, so it's crucial to consider your preference and needs.
However, a cushion should not cost you excessively just because it has extra features, while all you need are just the basic features.
Dimensions
Consider your height and the cushion's dimensions before purchasing. The cushion should fit the wheelchair perfectly and leave enough room for you to fit your legs under a table.
Why Do You Need a Wheelchair Cushion?
Pressure sore cushions for wheelchairs help distribute the weight evenly throughout the sitting surface rather than pressure on one point.
A cushion protects the skin from pressure sores and other skin conditions caused by sitting for too long.
A cushion allows you to achieve a comfortable sitting position while keeping you in an upright position.
Prevents back and neck pain.
Prevents sweating and sticking to the wheelchair surface by soaking up the moisture.
Reduce friction and absorb shock.
How to Measure a Wheelchair For Cushion Replacement?
To measure a wheelchair cushion, you need to calculate the seating area in two directions:
The Width: Start by positioning the user's sitting position on a flat surface for measurements. A regular flat chair is perfect for this practice.
Your reference point to measure the width will be the widest part of the person sitting on the flat surface. It could be the hips or thighs.
Once you determine the length from side to side based on the broadest points, add 1 inch to this number to allow extra space for the user to move comfortably without going beyond the area comprised by the cushion.
The Length: Do the same positioning as you did when measuring the width. At this point, your reference points would be the very back of the user's buttocks up until the back of the knees.
Once you have this number, subtract 1 to 2 inches to the cushion's final measurement. This is crucial to avoid skin damage. If the cushion reaches the back of the knee, it will be a problem throughout the day as the skin rubs against the surface.
If the user cannot use the legs to assist with movements, then taking away 1 inch from the initial measurement number is sufficient.
If the wheelchair user uses the legs to assist in movements, then 2 inches must be taken away to avoid skin problems.
The seat's height will depend on the wheelchair needs, ranging from a pressure sore treatments or prevention, pelvic obliquity assistance, and other different needs.
Make sure the wheelchair can adapt to the footrest heights based on the fit of the wheelchair cushions prescribed.
Types of Wheelchair Cushion Materials
There are many types of wheelchair cushions for pressure relief, including foam, gel, and air-filled. To better understand what each type offers, here are the summary of their benefits:
Foam Cushions
Foam cushions are the most common since they more affordable and low maintenance.
However, foam cushions are available in different firmness levels, from low density to multiple layers of foam intended for added comfort and better pressure management.
Unfortunately, they compress easily and wear out quickly.
Gel Cushions
Foam cushions are the most common since they more affordable and low maintenance.
However, foam cushions are available in different firmness levels, from low density to multiple layers of foam intended for added comfort and better pressure management.
Unfortunately, they compress easily and wear out quickly.
Honeycomb Cushions
If you prefer a cushion that absorbs shock well and doesn't flatten out quickly, honeycomb cushions are the best option.
This type is rare and expensive than all the above types, but it provides an even distribution of weight and increased airflow to keep you comfortable and cool for a longer period.
Air-Filled Cushions
These cushions are filled with air rather than foam or gel to adjust the firmness by reducing or increasing air.
Although air-filled cushions don't have a stable sitting surface, they are extremely great at relieving pressure as the pressure points sink into the cushion.
However, air-filled cushions are not cheap, and it requires frequent monitoring of the air pressure.