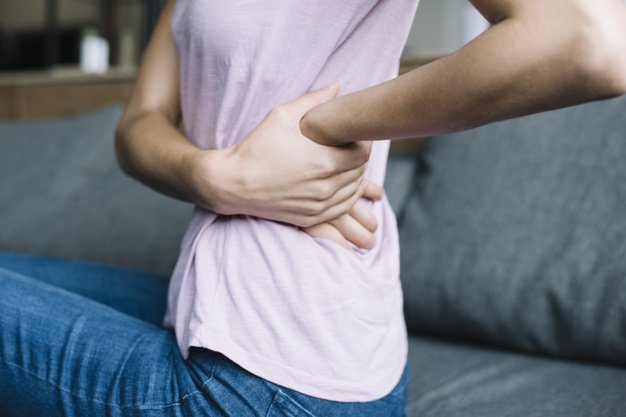 We spend long periods sitting in an uncomfortable position, which ultimately leads to back pain – yes, Millennial and Generation Z, I'm talking to you.
Dr. Christian Kang, a medical professional, stated, "20-year-olds have the spine health of a 30- or 40-year-old." The era of mobile phones and online-based jobs is making this the generation of hunchbacks.
Slumping can be prevented by using a back support lumbar pillow. These pillows improve posture, ease neck pain, and aligns your spinal column.
Lumbar pillows are a MUST for everyone in this day and age, whether it may be for work, driving, or relaxation. After all, the last thing we want to see is a bunch of kids looking like The Hunchback of Notre Dame.
We're going to help you find the most suitable back support pillow for your lifestyle in this comprehensive guide.
Table of Contents
Top Lumbar Support Pillows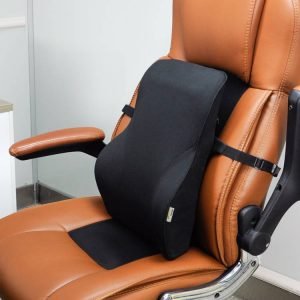 ComfyCentre falls on the high-end spectrum of lumbar support in terms of quality, but with a reasonable price range.
They're commonly known for their Knee Pillows, but ComfyCentre's lumbar pillow is as noteworthy as their top-selling products. The lumbar support immediately adapts to your body when in use, aligning your spine in an optimal position to ease lower back pain.
They use a special foam for the cushion, making it 19x more effective than the standard ones sold. It has smaller air bubbles to make it cozy without compromising form.
We recommend this lumbar support for heavy-duty users, this doesn't sink in for years of substantial use. In the battle against time, this triumph over other brands.
It's worth noting that the cover is made out of 100% Polyester that comes with air layer fabric for breathability and clean-up convenience (machine-washable cloth).
It does not carry any toxic odors, which is a big bonus. In most cases, lumbar support pillows carry a manufacturing scent that takes weeks for the smell to completely diminish.
Due to its breathable cover and foam, the lumbar support pillow keeps your back cool for hours, so profusely sweating is not an issue.
ComfyCentre Lumbar Support offers a 5-year long warranty PLUS a 30-day trial for their customers. Their overwhelmingly long warranty AND fast customer support make them our top pick.
Why Do We Love It?
Foam is 19X more effective than standard ones
Breathable cover for comfort
Tailored for heavy-duty users
5-year warranty
Non-toxic odor and machine washable cover
Minor Setbacks But Not Deal Breakers
None.
Everlasting did a phenomenal job in manufacturing a lumbar pillow that delivers support for your back without letting you feel stiff or rigid, which is common a case for low-quality support pillows.
Its elastic and extendable straps make it easy for you to position the cushion as you please, it fills in the gap between your back and office chair. You can remove the cover within seconds for washing, making maintenance a breeze.
Another feature that makes this cushion a notch above the others is it comes with a slow sink. A lumbar support pillow usually begins to sink after a few hours of usage due to body heat, but we noticed Everlasting Back Cushion doesn't have this issue. It remains solid despite using it for a long period, which is a huge plus.
You can contact Everlasting if you notice any defects on the item for a replacement, they have reliable customer service representatives and fast shipment.
The pillow is equipped with two zippers on each side for removal and reinsertion of the foam. We particularly like how the insert comes with its cover to keep it safe against lint.
Why Do We Love It?
Dual adjustable straps for convenience
Easy washing and maintenance
Lifetime replacement guarantee
Slow sink feature
Minor Setbacks But Not Deal Breakers
Upon closer observation, the pillow's straps are approximately 3 inches lengthier than similar lumbar pillows. In other words, it won't be a good match for office chairs with narrower backs. You have to keep on adjusting the pillow once in a while as the notch is too loose for it to stay in place.
We do NOT recommend this lumbar pillow for chairs with a short seat depth as this may come off as too bulky for comfort. The pillow is four inches thick, and it compresses for about two inches when in use, depending on how heavy you are.
Standing at five feet and two inches tall, this is more appropriate to use on longer seats. Although it's a different story for taller people as thicker and firmer lumbar pillows may be too short for comfort for them.
Users who do not want to be excessively cradled, this may not be your cup of tea. You can check out our top pick instead or our honorable mentions below.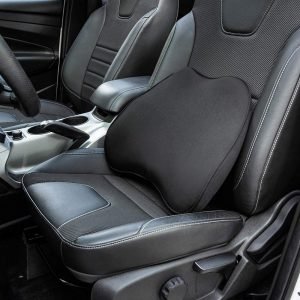 We decided to add this in for users who prefer softer pillows than our four-inch pillows on our list. This beauty is only three inches thick, so it delivers a squishier experience when in use.
While lumbar support pillows on our list are already affordable as it is, AmazonBasics is lower than its competitors price-point wise. If you're not looking for anything fancy and you're simply happy with extra padding on your chair to make it more comfortable, this is your best bet.
In contrast to our other top picks, this compressed the most as it squished down to a third of the pillow's width or two inches in thickness. Due to how cushiony it feels, we often forget it was on the chair, but it gives appropriate support nonetheless.
Props to AmazonBasics for the soft cover that makes it easy to remove and insert the foam for washing, the cover's stretchiness is definitely a plus in this aspect. The cover, however, is as thin as polyester, so its longevity is something to keep an eye out for.
This is backed with a one-year warranty, which sits in the middle in terms of length. It is longer than LoveHome's 60-day replacement warranty though, which is nice.
Why Do We Love It?
The cheapest lumbar support on the list
Softer and cushiony feel
One-year warranty
Easy-to-remove cover
Minor Setbacks But Not Deal Breakers
The strap is too short for the lumbar to fit on your car seat, so you're limited to only using it for office and standard chairs. What's more, this is not made for heavier people as it's too soft and lacks the thickness to support the user, but it does give enough support to prevent back pain for users with smaller build and lighter weight.
You can really see the price difference on the pillow's strap, AmazonBasics lumbar support only has one strap and it does not have extensions to boot. It's worth mentioning though that the strap delivers enough elasticity to cater to chairs that are 17 inches in width.
Sure enough, it does have several setbacks, but it's reliable lumbar support for people who simply want to enhance their work experience at a low cost.
Honorable Mentions
This gives you a foamy soft experience, similar to that of a stress ball. I'd say this is a crossover between AmazonBasic and LoveHome as it sits in the middle. It's thin, but it delivers appropriate support at the same time.
I'd like to point out that it's taller than other pillows today by three inches, which makes it a good option if you own a high-backed chair for work. It provides support not only for your lower back, but for your shoulders and upper back as well.
Considering, however, that it's about three times the price of the other pillows we considered, and that it has no straps to stay in place, this time we decided not to recommend it over other options.
The main reason why it did not make it to our top picks is because of its price, and the fact that it doesn't have any straps doesn't help either.
If there's anything that Purple is popular for is it's the usage of gelatinous, gridded material in their products for comfort, cool, and support. Out of the products in the article, Purple's Back Cushion offers the coolest experience, so if that's something you're after, this seals the deal for you.
Purple fell under our Honorable Mentions because of the cover that prevents it from fitting on most chairs. The strap is non-elastic and it's inconveniently placed at the topmost of the pillow, so positioning it is a hassle.
This is a slim, two-inch-thick support pillow that's designed to keep you cool throughout the day. You have the option to reverse its gel insert, so you can swiftly switch it from the soft to its firm side.
Why Do You Need A Lumbar Back Pillow?
Two goods reasons why a lumbar support pillow is a must-have: (1) eliminates and prevents back pain from slouching; (2) it's cheaper than investing in an ergonomic chair – WAY cheaper.
Here are 4 reasons why a back support pillow is worth the purchase.
Appropriate Curvature for Posture
If you're dealing with pain in your upper and mid-back, a support pillow alleviates the pain as it comes with a built-in lumbar roll. These rolls are intended to support your lower back and coccyx when sitting.
Chiropractors Love Them
Chiropractors recommend a lumbar back support pillow for people with desk jobs to keep their back in place. The contoured, concave design allows the pillow to support your spinal column and back. It retains the curve of your lower spine, whether you're driving, working, or relaxing.
Pure Memory Foam Delivers Comfort
Cushions that guarantees 100% pure memory foam offers back pain-free experience, the pillow remains durable for a long period. It keeps its firmness for years without compromising shape.
Quality pillows offer the right balance of firmness and softness, memory foam responds well to your natural body heat and pressure as well for superior support. As soon as the heat and pressure from the foam are gone, the pillow reverts to its original shape. Good as new.
Supports You While Driving
Road trips are as fun as your back allows you to. A lumbar support pillow ensures you're driving in an optimal position at all times. It should have the appropriate amount of padding for your comfort, you can find multiple lumbar support that works well on office chairs and car seats.
Lumbar Pillow Buying Considerations
These cushions have a number of shapes and sizes, it's important to take time and research for the most suitable one for you. Before making the purchase, here are 6 buying considerations:
Air Circulation
This refers to your pillow's breathability. As a rule, the cooler your cushion is the better it is. However, it entirely depends on how much time you're going to spend sitting. If ventilation is a big factor in your buying decision, Purple's Lumbar Support Pillow will work for you nicely. A cushion with a mesh design gives you additional comfort as well.
Versatility
Look for lumbar support that you can use in multiple situations, it should conform your back properly regardless of what you're sitting on. An ideal lumbar support pillow can be used on your car seat, office chair, and even wheelchairs. It makes a practical purchase, too. Make sure the width isn't too thick or too thin to ensure it fits properly on most – if not all – chairs.
Material Quality
The higher the quality, the longer it lasts, the more you'll be able to save. Investing in cheaper pillows does not give you justice as it barely provides any support, it's too soft so it loses shape quickly. Only purchase from a credible vendor, read reviews and take note of product descriptions.
Resistance Levels
A suitable pillow should be soft while still be able to provide support for your back. Comfort is a top priority, so don't buy lumbar supports that are too soft or too firm for your taste.
Adjustable Straps
Straps make everything more convenient. It's best to find lumbar support with two extendable straps, ensure that the strap isn't too short, so you can use it on average-sized chairs to bigger ones. These keep the pillow in place, thus you do not have to worry about the support falling out of position.
Style
There is a multitude of designs and styles for back support cushions, find the one that works for you the most. You can purchase single-feature cushions or a more advanced lumbar pillow with features that support other body parts, like your neck and hips.
Frequently Asked Questions About Lumbar Support Pillows
How do I know I have lumbar pain?
It's a discomfort in your lower back and it can be triggered by several factors, major causes are from poor posture, arthritis, and fractures. On the bright side, lumbar pain or back pain is treatable and preventable, one of which is using a high-quality back support lumbar pillow whilst working or driving.
What's the difference between lumbar pillows and back brace?
Back braces are intended for patients with major back issues, they're prescribed by a medical professional as a measure of reverting the back to its optimal posture. These braces are worn around the patient's waist for support, people with herniated disc often wears one.
On the other hand, lumbar pillows are designed to ease mild back pain by making the sitting position more comfortable for the user. These two have different usability and end-goal.
Do I have to consult with a medical professional before using a back support pillow?
You don't need to have a prescription to buy one, but if you have a major back issue and other back-related injuries, it would be best to consult a professional than self-treatment.
There's a chance you may worsen your case by purchasing the wrong pillow as there are multiple lumbar pillows available.
Takeaway
Investing in the right-back support pillow goes a long way for your health and comfort. Lumbar support pillows are compact and portable, you can use it anywhere to prevent or lessen back pain.
They only cost under a hundred bucks, but offers immediate relief from back pain, making them a life-saver for office clerks and drivers.
The right sitting posture allows you to think clearly, sleep faster, and work comfortably, which ultimately increases your quality of life.