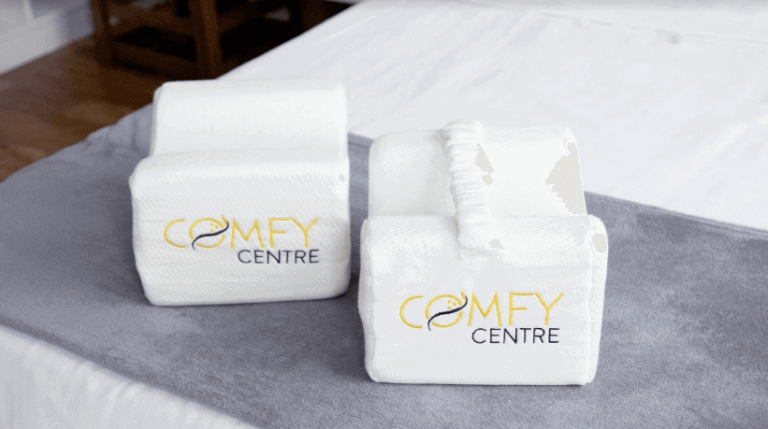 An average college student only sleeps 6 hours a night, and during the finals week, they're lucky to have any sleep at all.
From studying sessions to university parties to find themselves, it's pretty hard to fit a proper eight-hour sleeping schedule into the mix.
Hence, it's important to maximize sleep as much as you can when you do have the time to hit the hay!
We're going to mainly discuss memory foam pillows by ComfyCentre to shed light on how college students can maximize comfort while in college.
Here are the best pillows for college students!
ComfyCentre's Head Pillow uses high-density memory foam to provide optimal support for your head, relieving neck pain, and upper and middle back pain for enhanced focused in classes.
It promotes spinal alignment for an optimal sleeping position. The memory foam pillow contours to your weight, reshaping itself for comfort and relief.
Comparing to similar memory foam head pillows, the ComfyCentre Memory Foam pillow particularly pops out. Its sleek white cover together with the clean ComfyCentre logo at the upper left of the product, gives off a premium feel.
For your convenience, it comes with a handy carrying bag, which makes a great and practical gift to a friend or a loved one. It relaxes your muscles properly as it provides spinal support for deep, restful sleep.
You'll notice positive changes within a week of usage. A useful head pillow for nights where you need a little more comfort to cradle you to sleep – if you're a college student, you just know.
Relieve Neck Pain
Cool and breathable
Achieve optimal spine alignment
Contours to your weight
Whether you're a basketball player, a powerlifting athlete, or a tennis player, you are bound to experience knee, hip, and back pain from training. And for athletes who side sleepers, this only worsens the pain.
Dealing with discomfort whilst studying for classes does not equate to high scores. When you're sleeping on the side without adequate support, your spine is twisted, placing unnecessary pressure on your knees, hips, and back.
Using a high-density memory foam pillow delivers optimal support for your spine, helping you achieve the ideal sleeping position with its ergonomic design.
After four days of using, 63% of ComfyCentre side sleepers have noticed a major difference in joint aches and pains, allowing them to sleep properly.
For students who tend to toss and turns during their sleep, we recommend getting the knee pillow strap variant.
College students who want to maximize a good night's sleep for faster recovery, need a knee pillow propped between their legs whilst sleeping.
Reduces knee pressure
Relieves knee, hip, and back pain
Promotes blood circulation
Promotes optimal sleeping position
College students spend hours studying and typing away, making essays, reports, and PowerPoint presentations for their many class subjects.
While the result of the paper works might deserve an A+, the effects on your back are far from satisfactory. Prolonged sitting leads to lower back pain, which means you won't be able to squat, bend, and pick-up things without feeling a pang of discomfort.
Lumbar support is designed to ensure you're in a natural sitting position by guaranteeing optimal spine alignment. The cushion works effectively to relieve back pain for sitting and driving within four days on consecutive use.
Similar to other products from Comfy Centre, these are all made from dense memory foam. You can attach the lumbar pillow to your chair with the use of its adjustable straps.
Regardless of how long you're working, the lumbar support prevents unnecessary lower back pain from occurring. For bigger people who use a bigger-sized chair, you may opt for the XL variant.
Relieves lower back pain and hip pain
Optimal sitting position
Brings your spine to a natural position
Circulation and vitality
College chairs aren't the best in the comfort department, they're mostly made out of hard plastic and do not provide adequate support your body needs.
As a result, you might feel pain and irritation by the end of the day – certainly not a twenty-something-year-old should experience.
Seat cushions provide support to your tailbone, back, and hips for long sitting hours. Comfy Centre's memory foam seat cushion is a compact pillow that ensures you're in an optimal sitting position for long periods. It prevents you from wiggling back and forth during study sessions.
For students who are taking online classes, you're mainly spending time at home, which means more time sitting down than engaging in physical activities, making this a practical investment for your joints.
Of course, the orthopedic seat cushion is a solution for drivers who travel to and from home for school. Or for commuters.
There are two designs to choose from:
U-Shape: Relieves pressure from coccyx and spine
W-Shape: Promotes proper posture, reduces pressure on legs
Comfy Centre's ultra-dense memory foam lasts for years. To ensure you're getting your money's worth, you can use the cushion for 30 days and return if the experience is unsatisfactory.
Relives tailbone and leg pain
Promotes natural sitting position
Reduces pressure
Compact, great for long commutes
Comfy Centre Memory Foam Pillows For Neck Pain, Back Pain, and Knee Pain
Ultra-Dense Memory Foam Pillow
Comfy Centre is known for using hardwearing memory foam in manufacturing their long line of comfort pillows. These are air-permeable memory foam that provides comfort for years before it wears out. The products come with a standard 5-year warranty.
Ergonomic Design by Orthopedic Experts
Comfy Centre works with orthopedic experts with over 25 years of experience in creating our series of memory foam pillows to ensure it provides optimal comfort. Our pillows are meticulously designed, manufactured, and tested before selling.
Breathable Covers
We use moisture-regulating pillow covers for our memory foam line to ensure no sweat or moisture residue resides in our pillows. As a result, it remains cool, comfy, and clean for long hours. Our pillow covers are machine washable, too.
No allergies
One of the steps before product release is testing it for harmful substances, this ensures it's free from chemical odor, allergies, and irritations.