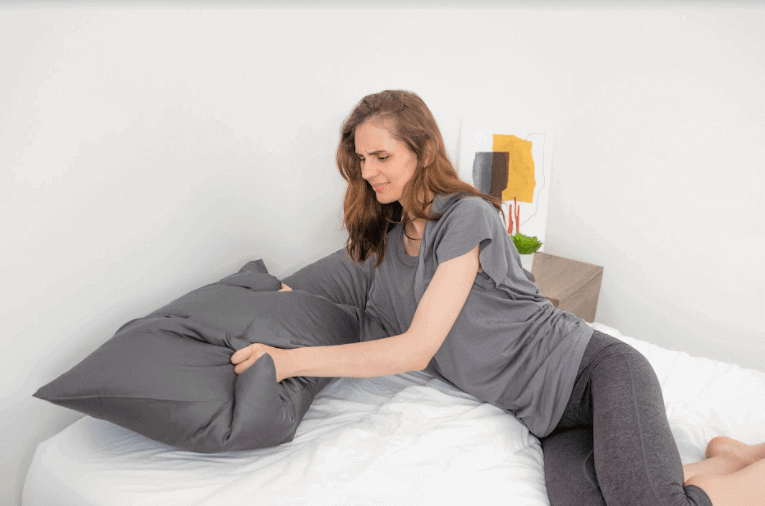 Everyone dreams of having a good night's sleep, yes pun intended. One of the keys to achieving this dream is finding a good pillow, but unfortunately, it is not easy as it sounds, especially for people who have large shoulders. There are many options in the market that, instead of making the task more accessible, can get confusing. There are also quite a lot of factors that should be considered, such as the following:
· material preference
· budget
· availability
· body shape
· body size
· the preferred sleeping positions
As mentioned above, sleeping position matters a lot. After all, there are various sleeping positions. We want to help! So here are some quick tips that can help when you want to know what qualities you should look for in a pillow when depending on your sleeping position style:
Stomach sleepers: A person with large shoulders who sleeps on their stomach should try to pick the thinnest and softest pillow available. Those types of pillows may prevent additional pressure on the lower back, and they would also help you avoid twisting and turning your arm and shoulders while sleeping into positions that can result in muscle pain.
Side sleepers: Broad shoulder sleepers who love to lay on their side should use a firm and thick pillow. The pillow must fill the gap between the ear and shoulder.
Back sleepers: Lastly, a person with large shoulders who sleeps on their back should choose a thinner pillow and make sure that it does not position the head too far.
All right, now that we have tackled those, we would be discussing specifically the best pillow options for those who have broad shoulders. The majority of wide shoulder people tend to struggle with neck and shoulder aches and pains due to poor choices of pillows. To give you an idea, here are some reasons why a lousy choice of pillow and sleeping position can bring you pain:
They say broad-shoulder people tend to prefer side sleeping positions. Sadly, this can start poor neck alignment, especially without a suitable pillow.
Broad shoulders, which are also side sleepers, tend to pull their shoulders up towards their ears while sleeping. This usually happens when the pillows they use are ultra-thin or what those in business call pancake pillows that do not support the neck and head and lead to shoulder tightness.
Sleeping on your side with a pillow that does not provide adequate support can render damage to the shoulder's rotator cuff. Especially for people who have a broad shoulder, there can be a lot of pressure on the tendons.
Those pain don't go away fast enough and can inflict severe damage as time goes by. So, check out the following seven pillows that we genuinely believe can help anyone but most especially those with large shoulders who dream of good night sleep: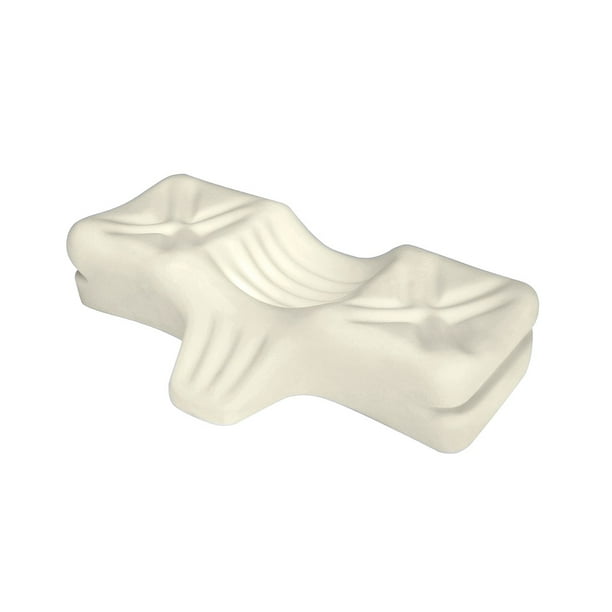 One of the best pillows out there for almost anyone would be The Therapeutica Sleeping Pillow. An ergonomic designer and a Doctor of Chiropractic created it, which should convince any buyer that this is a quality pillow for those who prefer sleeping on their back or side. This foam pillow is non-allergenic and offers firm and comfortable support even to those with large shoulders. It is also explicitly made with the thought of helping to restore the natural curve of the neck and at the same time reduce neck pain and stiffness.
It also comes in multiple sizes, and you should remember that when ordering pillows, the correct size is a primary key to helping improve your sleeping posture and get a great sleep.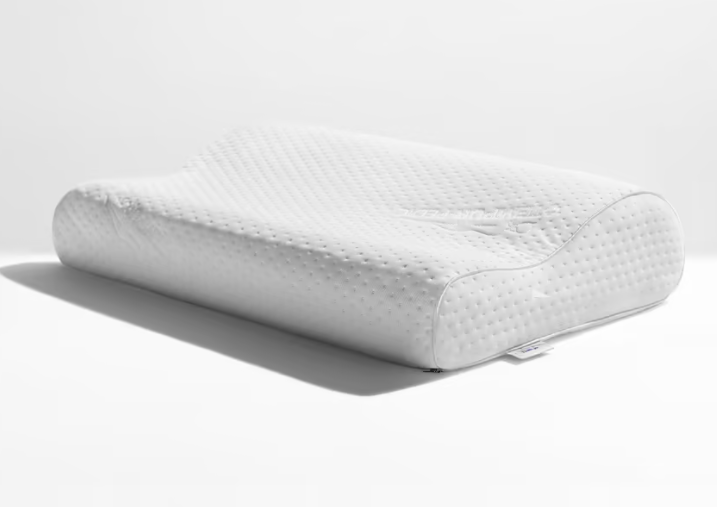 This is the best pillow if prominent shoulder people need firm support to alleviate neck pain. This pillow has been in the market for years now, and people are still in love and had continued supporting it.
One of the main reasons it is loved is its solid memory foam, which is ergonomically designed to give back and side sleepers precise alignment. Another thing that makes this pillow stand out is that the shape is contoured to be a perfect fit on the curve around the head, neck, and even broad shoulders.
Blogs You May Like Reading:
 The pillow profile is also low, so it will not feel too high, and it is firm enough that it felt supportive. It also comes in small, medium, and large sizes to properly fit different body types (even large shoulders!!). 
They call it the best adjustable pillow out there. Using this pillow while having large shoulders would no longer be a problem—no more issue of it being too high or too low. You can customize it to achieve the perfect individual balance between comfort and support. It is also fantastic whether you are a side, back, or even a stomach sleeper. Isn't that amazing? The fact is that this pillow can be adjusted precisely to make it suitable for any buyer.
The makers promise that there would be no more pain by using this pillow. It even helps with snoring or turning and tossing; you can say goodbye to a night of restless sleep. The unique adjustable design allows the buyer to access the memory foam fill, and it is effortless to add or remove to match your size, shape, or sleep position. They also have an excellent return policy within 100 nights (if you don't love it, which the makers are confident would never happen).
The people who bought this pillow state that it helped them a lot in neck pain. This is probably because of the pillow's great neck and head support, primarily designed to prevent tension in the neck, head, and shoulders so that users don't wake up with pain in these areas or even headaches.
Another wonderful thing about it is that the Aeris Contour Pillow allows you to adjust to the loft height. This way, it can meet the users' needs by raising or lowering the size of the pillow. It is excellent for all sleeping styles.
One last thing to note is that the outer pillow cover is made of wonderfully soft and removable bamboo fabric! Washing it in the washing machine would be easy peasy—no more hassle.
The next pillow on our list is multi-awarded. It took home the BEST PILLOW FOR SIDE SLEEPERS 2020: SLEEPOPOLIS and BEST ADJUSTABLE PILLOW 2020: THE SLEEP JUDGE. The maker's goal was to deliver a luxurious pillow that checks all the boxes; soft, super supportive, adjustable, clean, cool, and easy to maintain. Oh, and in case you are wondering, it's pronounced "kay-pock."
The pillow is a unique mix of reactive memory foam and Kapok fibers. Because of its materials and design, it gives this pillow the moldability to conform to users, and it also assures that it would hold its shape throughout the night.
It also comes with an excellent soft cover that is breathable polyester/viscose. At the same time, it is compounded with CuTEC® performance copper fiber, which keeps this pillow cleaner and more excellent. It is good to note that CuTEC® is in demand when it comes to performance fabrics because it reduces odor and improves hygiene. They say CuTEC® yarn can even be a beauty secret since it helps remove and replenish dead skin cells.
Lastly, one of the critical factors why this pillow is beloved is because it comes a bit overstuffed so that you can adjust it to your liking. If it is too tall for you, simply remove some fill and adjust the pillow loft to suit your needs.
Uneven alignment is one of the primary sources of shoulder pain, especially for side sleepers with large shoulders. Don't fear, though, because Eli & Elm Cotton Side-Sleeper Pillow would remedy this problem, all thanks to its specialized design. You see, this pillow features a notch at the very bottom edge where you can comfortably rest your shoulder, and there is no issue with the head and neck support at the same time. It is scientifically proven that sleeping with your shoulders on the mattress and at the same time keeping your neck elevated can improve your alignment, which in return reduces aches and pains in the spine, neck, and shoulder.
Oh! and the pillow is also adjustable. It comes with a fill composed of shredded plush polyester fibers and latex– which can be added or removed to adjust the loft. This was you can make the pillow optimal for any sleeping position. The pillow design and materials also boast of their capability to regulate temperature. The latex and fiber do not retain too much body heat, and the cotton-blend cover is practically breathable. Washing the surface is also no fuss but make sure that the fill is never laundered.
Lastly, despite all its feature and the fact that the pillow is also highly aesthetically pleasing, it is reasonably priced.
This pillow is deemed a god sent for those who suffer from aches and pains, acid reflux, snoring, problem breathing, poor circulation, back or neck issues, and even hiatal hernia; all thanks to its practical and comfortable gradual slope design! It provides a comfortable and healthy night's sleep and is perfect for watching television on the floor or cuddling in bed.
Another thing people love about Brentwood Home Zuma Therapeutic Wedge Pillow is its multiple purposes. Sleepers can use it for their head, but many people also attest to its remarkable capability as a wedge pillow for your legs and feet. Buyers also noted that the pillow is surprisingly perfect for its firmness, firm enough for support but not too firm, leading to being uncomfortable. 
Blogs You May Like Reading:
It also comes with an affordable price tag, so it is honestly worth trying.
And that concludes the list of pillows that we highly recommend for people with large shoulders. As Clearwater Chiropractic, states pillows "have a considerable impact on your quality of rest and your overall well-being." So, you must research and check which pillow fits all your needs. However, as we mentioned right from the start selecting the best pillow can be challenging. Take your time; don't rush. Don't forget about what we discussed, though; the usual essential factors are your preferred sleeping position and your natural preference for materials and design.
If shopping for it becomes too overwhelming, you can always give our recommendations a try; after all, they all come with a return policy, so take note of those and give them a try.
No matter how tempting it is please don't just settle or follow the trend. That is extremely important. If you do, you might end up wasting a lot of money. Choose wisely and think carefully before purchasing one. A good pillow can change your life. Happy shopping! ?