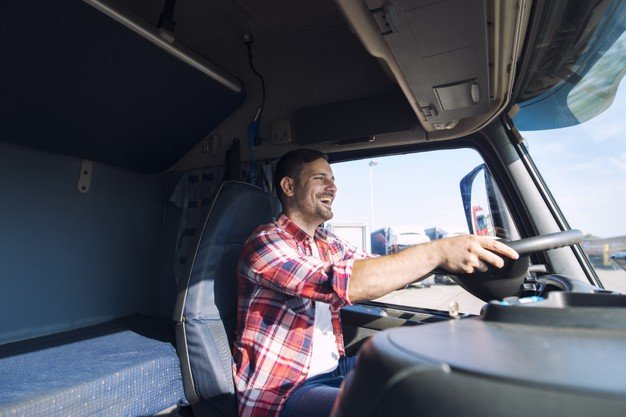 As a truck driver, there is nothing more convenient than having a comfortable seat. It is essential for any truck driver's health and comfort. Driving for 9 to 12 hours (or more) every day without adequate support can eventually take its toll on the back. Luckily, there is a good option that won't break your wallet. Instead of replacing your seat, why don't you invest in a high-quality seat cushion?
This article will help you decide if you really need a seat cushion. You will find a couple of recommended, best seat cushions for truck drivers that are essential in order to focus on driving and making money entirely - minus the pain.
Top 5 Best Seat Cushion for Truck Drivers
We've sorted out a few products by going through in-depth market research and weighing each customers' reviews. Now, let's explore these seat cushions comprehensively.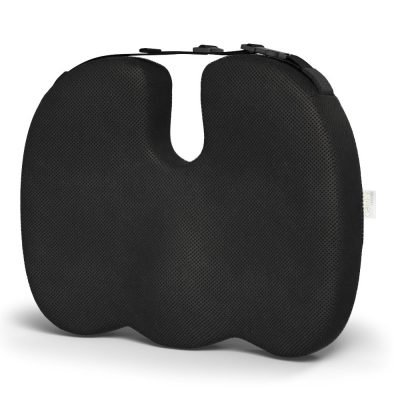 This cushion has breathable memory foam allowing you to be comfortable for an extended period without losing its shape. It retains its form to provide continuous support while driving.
It features an aesthetic U-shape that relieves discomfort from the coccyx and spine and a W-shape design that takes off the pressure in the legs. Also, the cover is removable and machine washable.
A smart investment for long-term use for truck seats and office chairs. It's pretty light in weight, enabling you to carry the pillow while traveling.
It's the best seat cushion on the list with great air permeability.
ComfyCentre's5-year warranty and 30-day product trial sets them apart from other manufacturers. Not satisfied with the quality? You can ship it back at no additional charge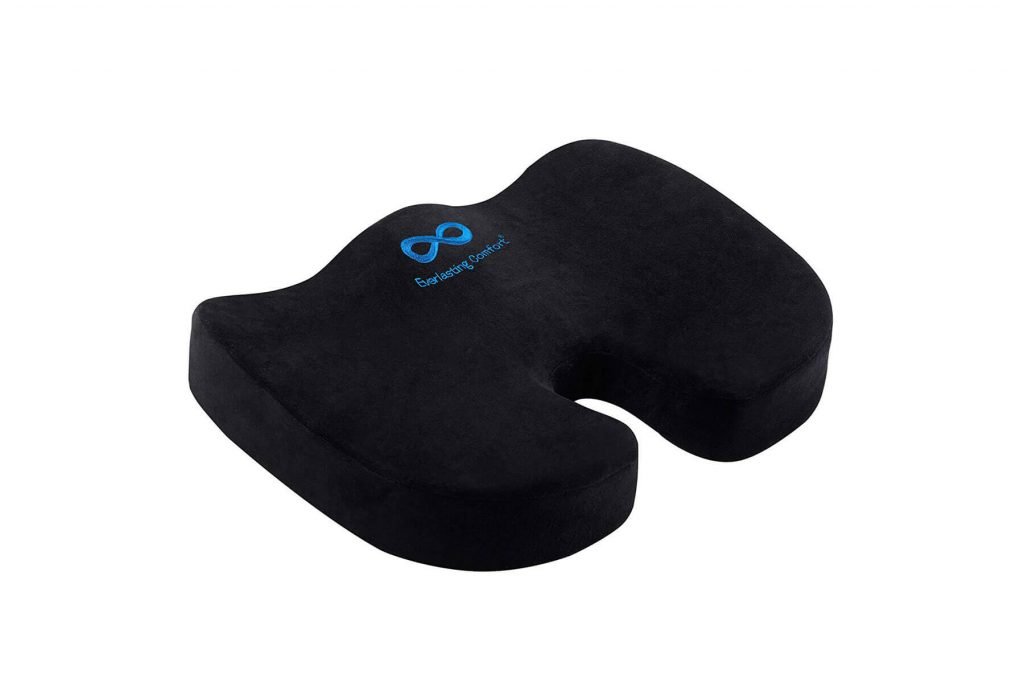 This cushion is made of 100-percent premium memory foam that features a U-shape design. This design is specifically made to prevent pressure on specific body areas by utilizing body heat to mold into the back for added comfort.
It has a non-slip rubber bottom to prevent it from shifting out of place. Everlasting also offers a lifetime replacement policy for this cushion.
The cover is machine washable. It saves you money, good for blood circulation, and usable for office chairs as well. It features good air permeability as well.
You May Enjoy Reading These Posts: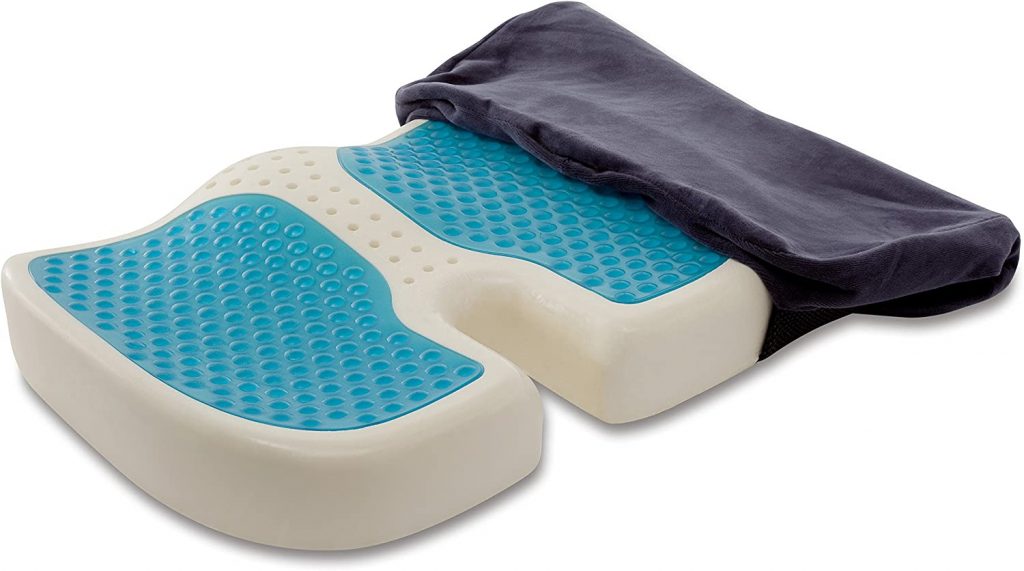 This cushion uses a non-slip silicone coating that allows users to sustain balance and avoid sliding. It features a memory foam that doesn't deflate or lose its shape, providing maximum comfort as long as the person sits.
Its unique layer of ventilated 4D fabric protects the pillow from dispersing heat effortlessly for a worry-free heat buildup even if you're sitting for a long time. It's pretty light in weight as well.
This cushion is made from resilient foam that can last longer than regular ones and can be conveniently used anywhere – making it a worthwhile investment, especially for truck seats.
Bigger people need a seat cushion that can handle their weight or else it may not be able to provide optimal support. Xtreme Comforts fits larger truck seats at 19 inches, which means it can distribute weight evenly.
It's a two-layer foam seat cushion that conforms to your body shape, meaning it does not go flat after long periods. It relieves tailbone pressure after a few times of use and good for circulation.
The cover is washable as well for convenience. Another thing to like about is its neat carry handle, so meaning you can use it while you are traveling. It features a non-skid bottom, so it retains its position during bumpy roads.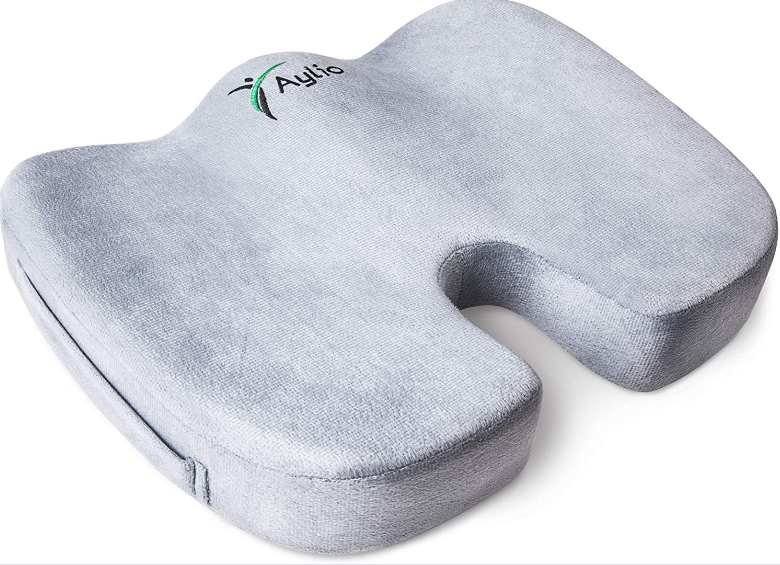 Aylio Coccyx is one of the best-looking seat cushions on the web. If you're a customer who likes to have a clean, attractive cushion, then shortlist Coccyx.
Interestingly, the width is close to Xtreme Comforts at 17 inches, which is only two inches smaller. The design delivers a unique cut-out for functionality. Aylio gives you a firm seat, so it distributes the weight evenly, relieving pressure.
It gives you a convenient carry handle as well, making it easy to bring on travels. It weighs merely a pound, which is great not only for land trips but flights as well.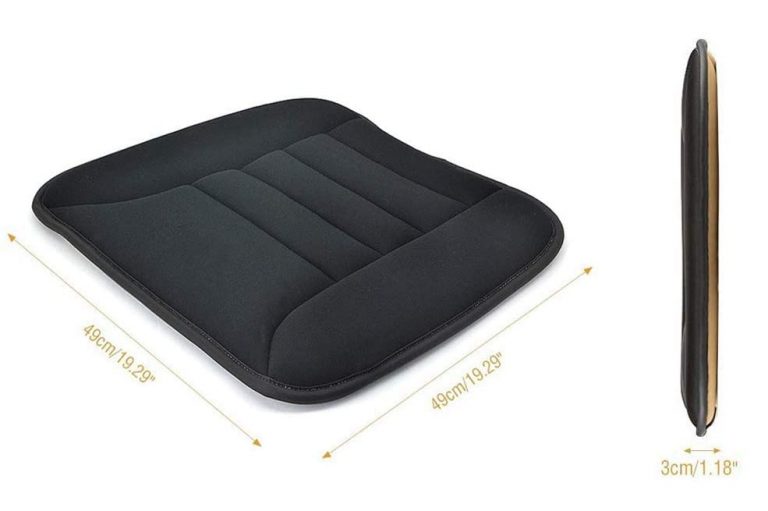 This large cushion measures about 44.5″ by 19.7″ and provides a massive amount of sitting space for truckers. The leather outer cover makes it look sleek and polished, while its bottom side is improved with efficient anti-slip rubber that prevents the cushion from slipping off the seat. What's more, the weight makes it great for portability. It's a good purchase for the money and great.
The material also offers the best air permeability and is intended to suit different personalities. It has two metal hooks attached under the car seat for added stability and two front pockets for storing your things like a mobile phone or wallet for easy access.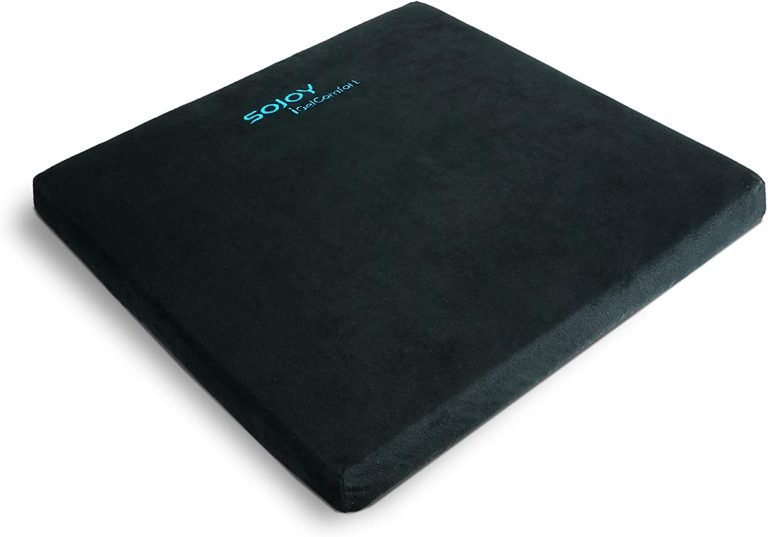 This cushion is a pick not only among truck drivers but numerous other users as well. It's commonly used in offices, small cars, or while traveling for added support and providing quick recovery from lower back problems, spinal issues, and herniated discs.
It is made under the gel-foam technology that combines gel for comfort and foam for support. Made with a non-slip fabric underneath, it prevents the cushion from slipping as you get on or off the truck. It also stays in place when you're on a bumpy road or rough terrains, making it one of the best seat cushions for truck drivers.
Types of Seat Cushion for Truck Drivers
Traditional Seat Cushion

Most seat cushions don't have a backrest and come in various shapes, such as a U-shape or wedge design. They are invented like that to take off the pressure of your spine while promoting proper spine alignment. They are typically molded to fit your bottom's shape. Since they're portable, you can use them anywhere aside from your truck.
Memory Foam

Some of the best seat cushions in the market nowadays are made of memory foam. They're specifically designed to alleviate lower back and spinal problems, as well as sciatica or tailbone injury. They are meant to conform to the shape of your bottom. However, not everyone finds it suitable for them.
Cushion with Backrest

Some seat cushions include lumbar support, which other users prefer due to their comfort and support. This kind of seat cushion typically has a 2-in-1 feature where you can sit on one side of it while the other part goes behind your back. Several brands include a strap to attach the cushion to the seat securely.
Inflatable

This type of seat cushion is designed to be adjustable. If you opt for this one, you can set the suitable height and firmness of the product to your preference.
Benefits of Seat Cushion for Truck Drivers
Upgrade. Although truck seats are designed to adjust to the body ergonomically, they aren't made to fit all body shapes and sizes. A seat cushion can fix an outdated seat into a much more comfortable one.
Added comfort. Sitting in the same position for an extended period can be uncomfortable, especially being a truck driver. This situation can lead to discomfort and pain that can be relieved by a seat cushion.
Lumbar support. Many seats lack enough lumbar support, which can be a problem for those already suffering back problems. Chiropractors also suggest using a seat cushion for extra support.
Things to Consider Before Buying Seat Cushion for Truck Drivers
The purpose of having a seat cushion is to provide relief, especially if you're a truck driver spending long hours on the road. In addition to that, seat cushions are designed to promote proper posture. When searching for the best seat cushion for truck drivers, always consider its beneficial effects on the lower back.
Therefore, we've come up with a few considerations when looking for the best seat cushion.
Style

Before buying a seat cushion, first, determine your preferred style for the cushion:
Memory foam - reacts to the body heat; later on, the memory foam material responds by adapting itself to the body and alleviating tailbone pressure off the driver.
Wedge - designed to encourage proper posture while sitting and keeping the back at a comfortable and appropriate angle. They are typically made of memory foam material.
Heated - seat pads that utilize heating technology (infrared) to generate heat and manage pain safely. These cushions improve body aches by increasing the blood flow to the area.
Inflatable - handy cushions that can be inflated or deflated anytime and anywhere. The cushion's firmness is customizable since you can control how much air you'll be filling in.
Size

The size of your truck's seat may differ depending on the vehicle's make and brand. Check the dimensions first before buying a seat cushion to ensure that it matches the vehicle's seat size. If it fits your body comfortably, it should fit perfectly to your vehicle's seat too.
Material

The material used in a cushion determines the comfort, performance, and durability of it. Consider the inner and outer materials used for the cushion and choose according to your preference. Memory foam is the preferred material for a truck driver.
Ease of Cleaning

Once you have your seat cushion, it will typically get dirty after a couple of use. Make sure to check how easy to clean the seat cushion you'll be purchasing, or opt for a type that's machine-wash friendly and has removable covers for easy cleaning.
Wash the slipcovers once or twice a year. While it may be surprising to only wash them annually, it's because washing them too frequently leads to wear the cushion prematurely.
However, you can purchase water-based detergents ideally for delicate materials.
Quality

Ideally, if you want to invest in a seat cushion, always go for a long-lasting one. Also, make sure it can accommodate the type of discomfort that you're enduring while driving.
Price

Many seat cushions in the market are inexpensive nowadays. However, some users believe that higher-priced products offer high-quality materials, which doesn't necessarily mean it's the best among them.
Always check affordable options that can still provide the utmost quality and comfort as a seat cushion. Explore and compare different prices and consider browsing customer reviews to help you decide what to choose.
Backrest

Truck drivers who prefer having extra support will find a lot of benefit in purchasing a cushion with a lumbar pillow as a set. Make sure that it comes with an adjustable strap, so you can adjust it accordingly. It also allows you to save.
Tips

As a truck driver, using seat cushions help increase the flow of blood to the legs, enabling you to sit for long hours without back pain.
It provides comfort and enhances support during long-distance trips. For that reason, ComfyCentre Orthopedic Seat Cushion is our top pick. What's more, it has a long year warranty.
And finally, before making your choice on which of the seat cushions to buy, make sure it meets your needs and preference, so you can fully appreciate and enjoy its benefits.
Final Verdict
As a truck driver, using seat cushions help increase the flow of blood to the legs, enabling you to sit for long hours without back pain.
It provides comfort and enhances support during long-distance trips. For that reason, ComfyCentre Orthopedic Seat Cushion is our top pick. What's more, it has a long year warranty.
And finally, before making your choice on which of the seat cushions to buy, make sure it meets your needs and preference, so you can fully appreciate and enjoy its benefits.
FAQs
1.) Are seat cushions good for you?
Yes. A memory foam seat cushion delivers plenty of health benefits, especially in relieving back pain. It also reduces muscle fatigue.
2.) Is memory foam washable?
No. However, the seat cushion covers have a removable mesh cover that allows you to clean and wash.